Dematic recognised for its sustainability program
31-08-2010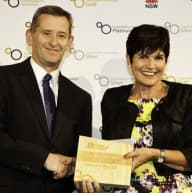 Dematic, a supplier of logistics automation, warehousing, materials handling and storage systems, has received acknowledgment for achieving Silver Partnership Status with the NSW Government's Sustainability Advantage Program.
The program recognises excellence in environmental performance and commitment to sustainability.
At a recent ceremony in Sydney, NSW Environment Minister Robyn Parker acknowledged Dematic and 40 other NSW businesses for their outstanding environmental achievements. Recipients represented diverse sectors such as aged care, education, manufacturing, property and infrastructure.
Dematic, which has a manufacturing facility on the edge of the national park in Belrose, in northwest Sydney, has made environmental management a key priority since becoming a member of the Sustainability Advantage Program in 2007.
The company has undertaken extensive risk analysis and resource assessments at the facility, identifying key areas of improvement and making significant changes in the way it operates, from switching to more efficient IT equipment to redesigning products and packaging to reduce steel content and waste.
Dematic's Silver Partnership marks another step in its continuous process of improvement, along with the organisation's ISO14001 certification.
Dematic is focusing on engaging their suppliers in the program, while continuing to identify areas of internal improvement with the ongoing support of the Sustainability Advantage Program.