Dematic drives new Blackwoods centre
31-08-2010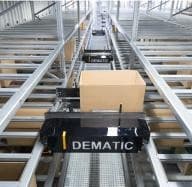 Blackwoods, Australia's leading source of industrial, and safety workplace needs, will build a new Distribution Centre (DC) in Sydney to further improve its outstanding customer service. 
The largest business of the Wesfarmers Industrial and Safety Division, Blackwoods has a product portfolio of over 200,000 stock keeping units (SKUs) which are serviced from over 90 geographical locations within Australia, New Zealand and Indonesia.
The new 17,800 sqm DC at Greystanes in Sydney's western suburbs will feature innovative integrated logistics technologies from systems integrator Dematic including: 
50 Dematic Multishuttle 2 next generation ASRS machines, servicing 32,000 storage locations
Seven Dematic Goods-to-Person (GTP) workstations, providing both picking and replenishment  functionality
A 12-way despatch sorter plus a dedicated outfeed for the in-house embroidery store  
An 11 zone routing system integrating ColbyRack pallet live storage, carton live storage and binning
Dematic PickDIRECTOR warehouse control system (WCS) software
Vocollect voice picking
ColbyRack pallet storage incorporating 11,000 pallet positions plus a 400sqm mezzanine floor
"We are excited to be commencing work on a state-of-the-art distribution centre to continue to successfully deliver on our promise of exceptional service," said Tony Pantilas, Regional General Manager for Blackwoods NSW/ACT. "It is of great importance we continue to meet and exceed the expectation of our customers, and investing in the facilities and warehousing technologies we use is a critical part of this process."
A key feature of Dematic's design is the integration of the first Australian Dematic Multishuttle 2 ASRS machines coupled with ergonomic workstations.
Dematic's Industry Manager, Darren Rawlinson, said: "A significant challenge for Blackwoods is that the order profile can range from large branch orders to single line orders that have to be processed quickly to reduce waiting time at the DC trade counter. Coupled with a wide range of SKUs, this means that the responsiveness of the GTP system is critical to the ongoing operation. Additionally, Dematic's ergonomic GTP workstations will deliver increased productivity, throughput and OH&S benefits."
The new Blackwoods DC is expected to begin operations in April next year.
Dematic Pty Limited
Ph: 02 9486 5555