Dematic delivers 'seismic-proof' storage system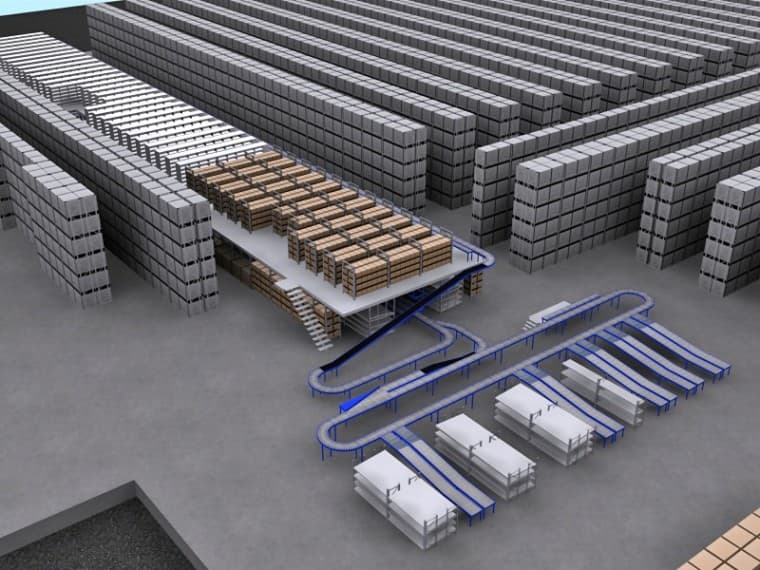 Dematic, a leader in warehouse logistics and materials handling solutions, will supply a purpose-built storage system to a company in Christchurch that is able to deal with earthquakes.
The ColbyRACK storage system was ordered by New Zealand's largest grocery distributor, Foodstuffs South Island Ltd (FSSI), for its new 46,000sqm distribution centre.
Purpose-built to deal with the forces generated by seismic events, it features a multi-level order picking module, conveyor sorting system and associated order fulfilment software.
While the new distribution centre is essentially a Greenfield project, it will be physically connected to FSSI's existing 13,000sqm ambient centre at Hornby.
Hornby has provided centralised distribution to the co-operative's members for the past five years.
The new centre, which will also consolidate operations from FSSI's Papanui distribution centre in Christchurch, will have the capacity to store more than 40,000 pallets to a height of 10.7m. It is expected to begin distributing stock by the third quarter of 2014. 
The FSSI Hornby distribution centre was one of more than 40 in Christchurch to suffer significant storage system damage during the 7.1 magnitude earthquake that struck Christchurch on September 4, 2010.
"Having been through the experience of dealing with a major rack collapse, we never want to go through that again, said FSSI Logistics Operations Manager Kris Lancaster.
"The DC was a total mess and we were very fortunate that the earthquake occurred at 4.35 am and there was minimal staff on the warehouse floor at the time. We immediately began researching what we could do to ensure if another earthquake of such magnitude were to occur again, that our storage systems would stand up to it."
Mr Lancaster said FSSI had been working with Dematic on various real-time logistics and automated order fulfilment projects for several years.
"We were aware of the sound reputation Dematic had gained for the structural integrity of its ColbyRACK storage systems, he explained.
"Working closely with Dematic's structural engineering team headed up by Dr Murray Clarke we came up with a new storage system layout that optimised the available footprint and airspace within our ambient distribution centre.
"Dematic really pulled out all stops to push the project through as quickly as possible, and our new ColbyRACK system was designed, manufactured, shipped and installed at the Hornby DC in just over three months." 
Following the installation of the ColbyRACK, the Hornby distribution centre continued to experience many aftershocks from the September 4, 2010 earthquake.
The storage system's first real test came when another major seismic event rocked Christchurch on February 22, 2011. 
The 6.3 magnitude earthquake caused even more significant damage to the city than the September 4, 2010 earthquake, resulting in the death of 185 people and an estimated $NZ15 billion damage to properties. 
"When the February 22, 2011 earthquake struck at 12.51pm, our distribution centre was in full swing, with many of our people on the warehouse floor at the time, said Mr Lancaster. "Obviously, this was a pretty scary experience for everyone given that they had all seen the result of the previous earthquake less than six months prior. 
"However, despite this seismic event causing much more damage across the city than the September 4, 2010 earthquake, our new ColbyRACK did the job it was designed to." 
Mr Lancaster said the racking system stood up to everything the earthquake threw at it. 
"We didn't lose a single pallet, and a subsequent inspection by a structural engineer prior to our people re-entering the DC confirmed the ColbyRACK system didn't suffer a single component failure, he said.
"So when it came time to look at what we would do with storage systems in our new Greenfield DC, there was never any hesitation in selecting Dematic to fit-out the warehouse with high-rise ColbyRACK."
Dematic Pty Limited
Ph: 02 9486 5555