Dematic on crest of a wave
31-08-2010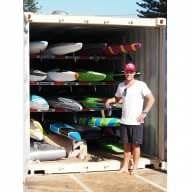 Dematic, a leading Australian logistics systems provider, has developed an innovative solution for an age old surf life saving problem. 
By combining standard pallet racking components with clever, roller-mounted shelves, Dematic engineers developed a new containerised storage system that provides additional storage for a large numbers of skis and boards when a club runs out of room. 
Several innovative concepts are used in the new storage container system. 
The first is standard pallet racking uprights that are fixed to the inside of the container. These uprights support beams, with rollers mounted at intervals so the skis are stored securely. 
An important aspect of the unique design is the integrated roller system that facilitates easy loading and unloading of the craft into the container. 
Not only does it make the job easier, it minimises damage to the craft and is highly configurable.
Dematic CEO and keen surf lifesaver, Glen Borg, drove the innovative engineering and donated the first solution of its type to Newport Surf Life Saving club. Working closely with Mal Reid, another Newport SLS member, the pair looked to provide a scalable, flexible and modular solution that was simple to install.
"Dematic is very excited about helping Newport SLS with this new idea, said Glen. "We've been manufacturing storage racks for nearly 50 years. So it was just a matter of putting two and two together – a pain point for a great organisation like Newport SLS and an innovative storage equipment manufacturer like Dematic. 
"We are delighted to be able to help make our beaches safer."
Dematic Pty Limited
Ph: 02 9486 5555