Published 28-01-2021
| Article appears in February 2021 Issue
Dematic Automates Landmark Group's Premier Distribution Centre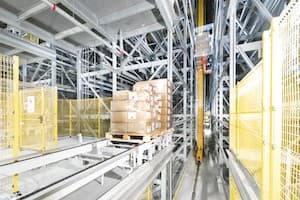 A new automated distribution centre by Dematic will allow consolidation of its multinational logistics activities among its five existing manual distribution sites.
The automation designed by Dematic allows its supply chain network to operate with enhanced efficiency and productivity.
A distinctive feature of the 265,000 sqm site is a pallet warehouse (43 metres high) with a silo design and up to 36,000 storage locations for receiving goods.
Inventory not immediately needed for distribution are palletized, then stored and retrieved double-deep via four 41 metre stacker cranes (Model SR-U1500/1) with two telescopic forks.
The climate-regulated high-bay warehouse stores temperature sensitive items and is equipped with a fire prevention system with an oxygen-reduced environment so even highly flammable goods can be stored.
The Dematic Multishuttle system handles faster moving goods with a patented Inter-Aisle Transfer feature that makes maximum use of space with aisle-spanning exchanges and double-deep storage.
With several lifts per aisle and conductor rail-controlled shuttles for high performance acceleration and speed, one shuttle can serve between 700 and 800 storage locations.
As a result, up to 15,000 totes per hour can be transported to the picking stations, making it the largest and fastest Dematic has ever installed.
A logistics benchmark is now set overseas for an automated distribution centre model.
For example the Dematic GOH system can accommodate up to 2 million garments and can achieve high throughput rates of up to 250,000 items per day.
The overall solution has more than 200 workstations with specific applications, including value added services such as customizing goods for specific retailers by adding tags, branding or promotional offers.
An 11-kilometre Dematic conveyor system for containers and pallets and a Dematic sortation system completes the operation.
The software operated as a Warehouse Management System (WMS) for stock management and included a Warehouse Control System (WCS) and a Material Flow Controller (MFC).
Goods are dynamically repositioned in four automated warehouse sections and the temperature-controlled manual warehouse, based on current and forecasted demand.
The Dematic IQ software also efficiently handles hanging and flat goods within a single system to meet customer requirements and desired sequencing.
At the same time, the software ensured that the right products are at the right place at all times by balancing the workload among the subsystems.
Automation offers scalability and speed while at the same time improving work safety.
Dematic is an intralogistics innovator that designs, builds and supports intelligent, automated solutions for manufacturing, warehouse and distribution environments for customers that are powering the future of commerce.
With engineering centres, manufacturing facilities and service centres located in more than 25 countries, the Dematic global network of 10,000 employees has helped achieve more than 6,000 worldwide customer installations for some of the world's leading brands.
The Landmark Group has successfully grown into one of the largest and most successful retail organisations in the Middle East and India.
An international, diversified retail and hospitality conglomerate that encourages entrepreneurship to consistently deliver exceptional value, the Group operates over 2,100 outlets encompassing over 30 million square feet across the Middle East, North Africa, India and South East Asia.