DEMATIC ACQUIRES NDC AUTOMATION
26-03-2016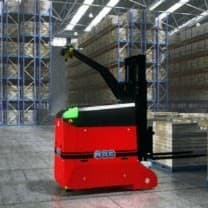 Dematic, a leading global supplier of integrated automated technology, software and services to optimize the supply chain, has acquired NDC Automation, a leading provider of Automated Guided Vehicles (AGVs) and software in Australia and New Zealand.
NDC Automation will operate under the trade name NDC Automation for a transition period locally, and globally as Dematic, and will continue to deliver the highest quality AGV solutions for Dematic customers.
Ulf Henriksson, Dematic President and CEO said the acquisition would enhance Dematic's ability to design, deliver and deploy global AGV solutions that move, store and/or retrieve goods.
"The NDC portfolio expands upon an existing portfolio that will dynamically optimize the movement of raw materials or finished goods as they move throughout a facility, including software that provides real-time information addressing material flow metrics," said Mr Henriksson.
Headquartered in Australia, NDC Automation has been providing AGV solutions for companies located in Australia and New Zealand for more than 40 years.
The company has pioneered major advances in the areas of safety and vehicle navigation for its customers.
"This acquisition further enhances our offerings to the global marketplace, complementing our storage equipment and logistics IT technologies and providing our customers with expanded flexible, scalable and modular solutions," said Glen Borg, Dematic CEO ANZ/ASEAN.
Tommy Eklof, NDC Automation CEO said: "The NDC Automation team is excited to join the Dematic organization and leverage our technology, deep breadth of experience and provoking thought leadership in the area of goods transportation. "We look forward to offering our combined technology solutions to create competitive advantage for the Dematic and NDC customer base."