DEMATIC'S NEW RAPID ROI PICKING SOLUTION ON SHOW AT CeMAT
21-04-2015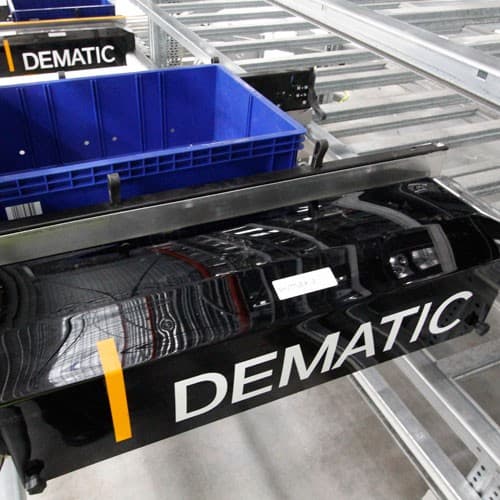 Dematic, a supplier of logistics systems for the factory, warehouse and distribution centre, will feature its new order fulfilment solution at CeMAT Australia 2015.
Dematic's new modular goods-to-person (GTP) System offers fast implementation, high productivity and rapid ROI for a wide variety of small to mid-sized businesses distributing from 200 to over 1,000 order lines per hour.
"The GTP solution is a flexible, off-the-shelf picking solution that delivers a picking rate improvement of up to 500% compared to a traditional environment," said Pas Tomasiello, Dematic's General Manager of Integrated Systems.
"We look forward to highlighting the modular GTP order fulfilment solution at the upcoming CeMAT Australia 2015 show, so that those in the industry can see the advantages for themselves.
"Industry attendees will be able to get up close to the modular GTP solution and experience picking their own order at our conference stand," Pas added.
The pre-engineered and pre-configured modular GTP order picking solution delivers ultra-high pick accuracy with only one SKU presented to the operator at a time.
An integrated weighscale at the pick location checks expected weights in real time further enhancing accuracy and ensuring that any errors are identified and corrected on the spot.
With stock being delivered to picking stations in the precise sequence required for order assembly – heavy items first, fragile items last, by family group or in whatever sequence needs dictate – pickers can achieve very high productivity rates of more than 1000 items per hour.
Another solution that will be demonstrated at Dematic's stand is the Dematic Multishuttle's new inter-aisle transfer capability.
This innovation enables Multishuttle carts to pass totes or cartons from one aisle of the storage system to the other, allowing stock from any aisle to be delivered directly to any pick station, reducing order processing time and eliminating the costs associated with interlinking conveyor systems.
All solutions on display will be managed and controlled by Dematic iQ performance optimising software.
The software optimises operational processes from planning to order fulfilment and shipping within a single flexible, scalable and modular platform.
It offers visibility and insight into system performance, and intuitive dashboards operate on desktop computers, laptops and mobile devices.
Additionally, a built-in data layer sets the foundation for analytics and smarter decision making.
Visit Dematic at stand E30 at the CeMAT Australia 2015, Melbourne Convention and Exhibition Centre from May 26-29.
Dematic
Ph: 02 9486 5555