DEMATIC'S NEW MODULAR SYSTEM DELIVERS 500% BOOST IN PICKING RATE
28-08-2014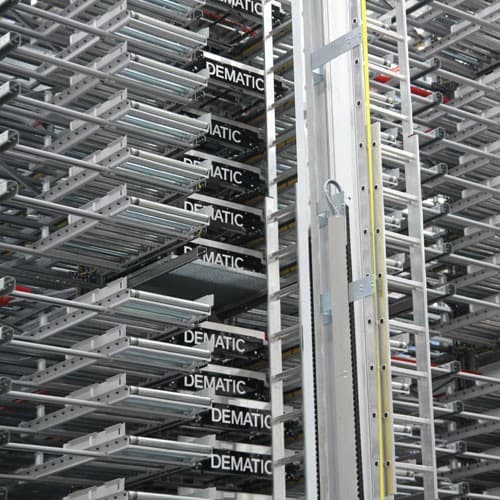 Global engineering and logistics automation company, Dematic has launched a new Modular Goods-to-Person storage and retrieval system to Australian distribution centres that can deliver a picking rate improvement of 500% compared to a traditional environment.
Dematic's new Modular GTP System is a flexible, off-the-shelf picking solution for a wide variety of small to medium-throughput order fulfilment applications.
It is ideally suited for businesses distributing from 200 to 1,000 or more order lines per hour.
"In busy distribution centres getting the right goods on shelf, or delivered to the right customer at the right time is critical, said Dematic's Wholesale and Distribution Logistics Manager, Darren Rawlinson. "To help address these stock availability and delivery efficiency issues, Dematic developed the new Modular GTP System, resulting in productivity improvements where one operator is capable of achieving the same sort of picking rate as up to five people in a traditional picking environment."
The Modular GTP System delivers ultra-high pick accuracy with only one SKU presented to the operator at a time.
An integrated weighscale at the pick location checks expected weights in real time further enhancing accuracy and ensuring that any errors are identified and corrected on the spot.
"With stock being delivered to picking stations in the precise sequence required for order assembly – heavy items first, fragile items last, by family group or in whatever sequence needs dictate – pickers can achieve very high productivity rates of more than 1000 items per hour," said Mr Rawlinson.
With Dematic's Modular GTP System, staff can work in parallel at multiple picking stations, unaffected by each other's pace, and pick stations can be opened and closed according to business volume on a particular shift. The system also provides full redundancy as orders can be processed at any location with all pick stations operating independently.
The new Modular GTP System requires minimal customisation, as all of the hardware including storage systems, Multishuttle and GTP picking stations, and software are pre-configured – which significantly reduces costs and enables rapid installation and start-up.
The system's compact configuration also uses space efficiently, potentially reducing building or leasing costs and providing the opportunity for better utilisation of space in existing distribution centres.
The only systems integration requirements for the Modular GTP System are connecting the high density Multishuttle buffer store to a conveyor network to transport orders out of the system, and to interface the system's software and controls with the user's warehouse management system (WMS).
Given the seasonality of many businesses, if more SKUs are added or order volume increases over a period of time, the Dematic Modular GTP System can be easily expanded to accommodate new requirements by adding additional Multishuttle storage aisles and/or pick stations, reducing the initial investment required and providing future flexibility.
"In most applications, the GTP system would provide an ROI of around four years on its own. However, when you then take into account additional savings through fewer errors and returns handling, faster replenishment, reduced lighting and fire safety requirements, this can easily translate into an ROI of three years or less," said Mr Rawlinson.
Dematic Pty Limited
Ph: 02 9486 5555