Dematic's new mobile computers handle the freeze
24-03-2014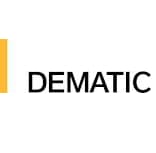 Freezers and the end-to-end cold chain present some of the most extreme and unforgiving environments for computing hardware.
Dematic, a leading supplier of logistics automation, logistics IT, and materials handling and storage systems, has launched two new products to withstand the demands of extremely cold environments.
The Omnii XT15f is the latest addition to the Psion Omnii line of rugged handhelds, and the new Psion vehicle-mounted mobile computer, both designed specifically for operation in the freezer down to -30 degrees and in heavy condensation environments.
Together these new solutions provide maximum productivity and flawless fulfilment in the most challenging customer environments including the busiest warehouses and coldest supply chains.
The Omnii XT15f and VH10f are designed for use in freezers that house perishable food and temperature-controlled refrigerators storing medications. The extreme cold of these environments slows displays and drains most batteries, while condensation is created when a mobile worker moves back and forth from a freezer to a hot and humid loading dock. These environmental conditions can destroy most mobile computers and affect efficiency and productivity.
Motorola's new freezer and condensation-rated mobile computers are engineered to work and thrive in these demanding conditions.
The Omnii XT15f and VH10f are available now from Dematic Real Time Solutions.
Dematic Real Time Logistics
Ph: 02 9486 5204