Demag rope hoist can now help to lift your profits
31-08-2010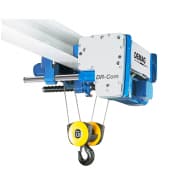 The tried-and-tested Demag DR-Com rope hoist product range now offers users significant efficiency benefits with its increased FEM classification.
The move up to the next-highest FEM group means that its rated service is doubled, while its maintenance requirement is cut.
The 2-tonne model is now available with FEM 4m classification. A further improvement to the DRCom enables higher handling rates to be achieved: the cross-travel speed has been increased to 24 m/min.
By taking this step, Terex Material Handling has improved the lifecycle costs and the performance of its Demag DR-Com, which is available in three sizes and with load capacities of 2 to 10 tonnes and with a 4/1 reeving arrangement as standard.
Unchanged is the high versatility of the rope hoist, which is manufactured in three variants.
As a compact unit with a low-headroom design, the EKDR-Com offers reduced approach dimensions for the best possible utilisation of the available production area. At the same time, the compact design provides for a low C dimension and an integrated mechanical derailment guard offers additional safety.
The low-headroom EZDR-Com double-rail crab offers the best possible use of the available space. And the FDR-Com is a foot-mounted hoist unit that offers a variety of different mounting possibilities for stationary applications.
The versatile DR-Com range can be used wherever materials or goods weighing up to 10 tonnes have to be lifted, transported or positioned.
Rugged design for many applications
Their low-vibration cylindrical-rotor motors and three-stage hoist gearboxes, which are
lubricated for life, ensure that DR-Com units also operate under demanding ambient
conditions.
DR-Com units are fitted with a mechanical limit switch for overload protection as standard. As an option, they can be supplied with a strain gauge carrier link, which enables the load spectrum and, therefore, the elapsed duration of service to be determined and provides data for further evaluation.
Proven hardware
The universal travel wheels fitted to DR-Com cross-travel units facilitate low-wear and lownoise operation on sloping or parallel tracks. Guide rollers ensure that the travel unit is safely positioned on the runway.
The cross-travel units can be adjusted to variable flange widths from 200 to 420mm. The basic safety equipment of all variants also includes a rope lead-in guard on the bottom block.
Launched in 2006, DR-Com rope hoists are the favourably priced alternative to DR-Pro rope hoists, which are designed for more demanding operation and offer a wider range of variants.
They can be supplied for load capacities up to 50 tonnes and for higher lifting and cross-travel speeds.