DEMAG RAISES ROOF ON WORLD'S LARGEST FREE-SPANNING DOME STADIUM
30-10-2014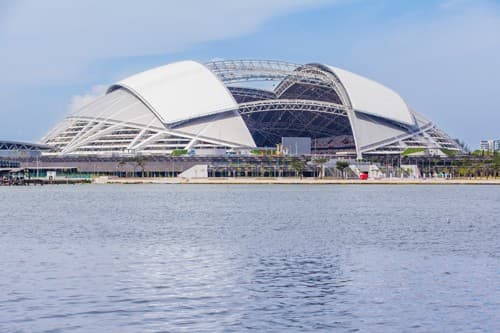 Homegrown engineering company MHE-Demag provided the roof moving solutions for Singapore's new Sports Hub stadium – the world's largest free-spanning dome stadium.
MHE-Demag supplied the moving mechanism for the retractable roof system, which spans 312m.
The new system can carry a 2200 tonne load – close to moving the weight of 1833 cars. The roof movement can be controlled precisely to the millimeter. It takes about 20 minutes to fully open or close the roof.
With a potential audience of 55,000 spectators below the roof mechanism must comply with the strictest of safety standards.
Safety features include primary and back-up sensors and an anti-skewing system that ensure a maximum skew position difference of only 35mm between any of the five trusses that support the movable roof.
The brakes keep the movable roof panels locked in their desired location.
Established in Singapore in 1972, MHE-Demag's technology is used across the island.
MHE-Demag's team of engineers worked with Arup Associates and Dragages Singapore to bring the world-class project to fruition.
Patrick Chin, team leader on the Sports Hub project, said: "The testing and commissioning of the retractable roof was extremely demanding as everyone was required to deploy on the roof to clear obstacles and monitor the movement of wheel bogies to ensure a smooth and accident-free roof movement. It was impressively successful and got all staff on site excited and satisfied with the positive outcome after spending numerous sleepless nights at the roof."
The movable roof is activated via a single start button inside the Event Control Room.
Moving 2200 tonnes of roof the retractable roof is incorporated to block out sunlight and rain to provide shelter during sport events. It is made of a lightweight material with weather-resistant.
The retractable roof consists of two panels (north and south facing). Each panel weighs about 1,000 tonne and is seated on 20 load transferred wheel bogies, located evenly on five steel trusses.
The driving mechanism consists of 16 line pull winches, 32 holding storm-brakes, energy
chains and an advanced electrical control systems. Each of the 16 winches is equipped with two independent inverter drive motors.
The greatest engineering challenge came in aligning the trusses and wheel bogies of the huge retractable roof within a tight and acceptable tolerance.
Demag
Ph: 1300 336 241