Demag cranes provide efficiency on all levels
21-03-2014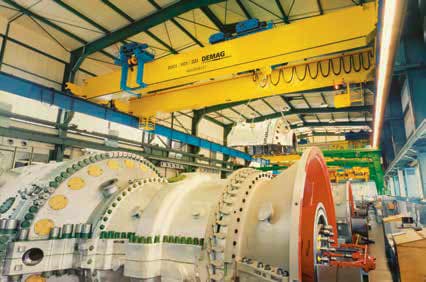 German manufacturers are renowned for their quality, efficiency, safety and attention to detail.
So when the Gustav EIRICH mechanical engineering plant in Hardheim, Germany, recently launched a major reorganization of its production operation it had no hesitation in fitting out a new production bay with Demag cranes.
On two levels, an integrated intralogistics solution has been installed that can be used for both transporting large and heavy mixers, as well as for serving the assembly stations with components.
As a parallel to this arrangement, the two-crane-level concept has been adopted in the neighbouring paint shop operated by the company, which specialises in industrial processing systems.
The two-level concept makes it possible to achieve flexible workplace design. Thanks to the compact configuration of the Demag cranes and hoist units, the height of the workshop is utilised to the best possible advantage. This has enabled investment, maintenance and energy costs to be reduced in the long term.
The integrated solution, which consists of seven Demag crane installations, is based on a comprehensive master plan for reorganisation of the production processes.
Mr Uwe Greissing, Factory Manager at EIRICH is responsible for the implementation of the new production strategy.
"As a mechanical engineering company, we need reliable partners who provide us with advice throughout all phases and help us to select the appropriate technologies, said Mr Greissing. "Besides the comprehensive Demag product range of cranes and hoists, the supplier's expert consulting services were also a reason why this project was awarded to Terex Material Handling."
Two 12.5 t Demag EKKE singlegirder overhead travelling cranes were installed in the assembly area, where they travel at a height of 9.6m and serve the assembly stations with the required sub-assemblies and electric motors.
On the level above, two Demag ZKKE double-girder overhead travelling cranes, which each have a load capacity of 50 t, operate at a height of 12.5m.
This solution now enables EIRICH also to handle fully assembled large mixers weighing up to 46 t safely as a complete unit.
The DR 20 hoist units feature twostage operation. This ensures that loads can be transported quickly and that the heavy machinery can be positioned precisely and carefully. To meet rising demand in the future, both cranes have been designed for tandem operation, which enables the total weight that can be transported to be doubled to almost 100 t.
All cranes in the assembly bay can be controlled independently of each other via radio control.
The highest safety standards were also incorporated. All Demag cranes are fitted with processor-based controls, which satisfy in full the safety-relevant functions as required by the Machinery Directive.
Demag Cranes
Ph: 1300 336 241