Demag boss passes the baton after 43 years
31-08-2010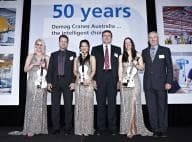 Celebrating 50 years … Demag's 'top three' strike a chord with entertainers String Diva … (from left) Dr Lars Brzoska, Joerg Stojan and Ron Tennant
To celebrate its 50th Anniversary in Australia, Demag hosted a gala function to thank its many customers and suppliers. 
Demag's production factory at its Smithfield headquarters in Western Sydney was turned into a special showroom for the event, attended by nearly 200 people.
Special guests included the German Consul General Hans-Dieter Steinbach, the executive director of the German Australian Chamber of Commerce Christian Wolf and Councillor John Perry from Holroyd City Council.
Demag's parent company Demag Cranes AG was represented by its Vice President for Industrial Cranes, Dr Lars Brzoska.
Outgoing CEO and Managing Director Ron Tennant gave guests a rare insight into the company's rich history.
"Demag traces its history in Europe back much further to 1819 in a small town in the north of Germany called Wetter where an iron foundry was established in an old castle, he told guests.
"Soon after, the company made cranes and hoists to aid production and the area developed into the industrial heartland of Germany.
"Over the years Demag went through various name changes, mergers and acquisitions and became a major supplier of plant and equipment to European industry.
"The name Demag is an acronym for the old company's full name as used as the telegram address back in the 1920s."
Since its establishment in Australia in 1962 Demag has supplied cranes and hoists to all industries including food and beverage, agricultural, cement, aluminium, light manufacturing and heavy manufacturing, aerospace, mining and tourism. Cranes of all types and sizes from less than 1 tonne up to 200 tonnes.
"Over the years we supplied thousands of cranes, many thousands of wire rope hoists, chain hoists and motors, said Mr Tennant. We not only supplied the product but serviced it and maintained it to keep our customers producing."
Mr Tennant said Demag was still providing spare parts for hoists that were sold in the 1960s.
"We are proud of the contribution we have made to the development of this country," he said.
Mr Tennant thanked the company's suppliers and customers for their on-going support.
"I am proud to have been part of Demag's success over the years, he said.
Since August last year Demag has been part of the Terex group, which includes Franna mobile cranes, Genie work platforms and Jacques crushers in Australia.
"This will start a new phase in our history and strengthen our operations in Australia, said Mr Tennant.
"Now after 43 years with the company and more than 25 years as a director of Demag Australia it is time to hand over to my successor for the next important chapter in our history."
With those words Mr Tennant then passed over a symbolic silver baton to his successor, Joerg Stojan.