Published 11-02-2021
| Article appears in February 2021 Issue
Delphi delivers a load cell record
A Queensland bespoke manufacturer has crafted one of Australia's largest wireless tension load cells, with a lifting capacity of 300 tonnes.
Delphi Measurement answered the call of a client who saw a gap in the market for a "Big Daddy" of load cells, after learning there were none on the entire east coast of Australia.
Queensland Rigging Hire approached Delphi to see if it was up for the challenge of manufacturing a customised large-scale load cell at its Burleigh Heads factory.
"The largest we'd previously made was 250 tonnes," Delphi co-owner Mike Leonard says. "But we were confident we had the equipment and the skills to do it."
This "can do" attitude is at the heart of Delphi's reputation as a small Australian manufacturer holding its own in a market rife with ready-made, often lower quality overseas product.
Delphi has consistently invested in larger machining and material handling capability to accommodate such orders, including designing and building its own curing oven and portable lifting equipment to manufacture supersized load cells.
"We're well set up now to meet those large-scale orders," Mike says. "We take pride in being able to deliver exactly what our clients are looking for.
"For us, it's always about quality and making sure that everything is 100 per cent right."
The cell was too large for Delphi to calibrate in-house so it was sent away to an independent calibration lab where it achieved Class A accuracy across its range.
"We were pretty proud of that," Mike says.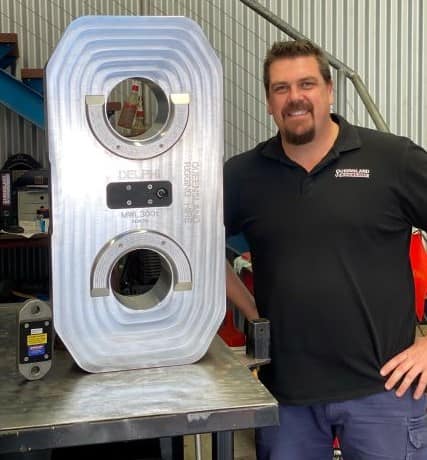 Delphi has been specialising in customised load cells, load pins, tension cells and force measurement equipment for more than three decades.
The company is highly valued by its clients for coming up with bespoke solutions across a range of applications and industries, including mining, gas, defence, heavy industry, construction, marine and food and beverage production.
The owner of the "Big Daddy" load cell Queensland Rigging Hire boss Ben Fitzgerald says the cell found fame of its own after he posted news of its arrival on LinkedIn.
"There was a huge response to it in the industry," Ben says. "It's a pretty rare, big piece of equipment and it's great to be able to say that it was designed and manufactured in Australia."
Ben says he was confident Delphi was the company for the job, having purchased more than 30 Delphi load cells since he launched his business five years ago.
"Going with Delphi is honestly the best decision I've made for the business," Ben says.
"A lot of my other equipment comes from Europe and to get it serviced, I have to send it back overseas. It's expensive and it can take gear out of the system for months.
"It's been great to be able to source good quality and well-priced equipment made in Australia. You also get the service too and that's a big reason we keep going back."
It's a glowing endorsement of Delphi, an Australian manufacturer committed to delivering solutions, not just products.
It certainly underscores the company's unofficial motto: "no job is too big or too small".