The delights of using ecoLED tubes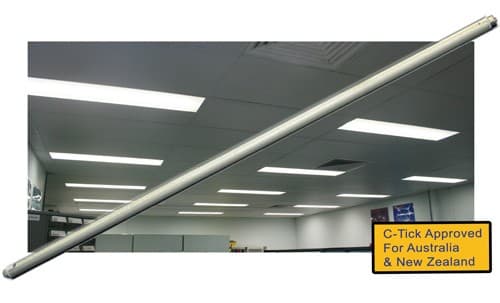 With Tenrod ecoLED tubes you can switch lights on and off at will – and still save energy.
And when you re-lamp from fluorescent tubes to Tenrod ecoLED Tubes you do not have to endure the flickering and pinging when switching lights on and off.
You no longer have to worry about glass breakages. There is no release of mercury contamination onto workbenches or flooring.
EcoLED tubes have no glass, no mercury, and no lead. Therefore there is no need for fluoro-recycling and no toxic threats when disposing.
Fluorescent tubes strobes with the frequency of the AC power source. This can cause irritations to those sensitive to it. It can also have stroboscopic effects on rotating items or images, which is not desirable when operating machinery, for instance.
Also, with EcoLED tubes you can look forward to a much longer service life.
EcoLEDs have a L70 rating of 35,000 hours (70 percent of original brightness after 35,000 hours). Fluorescent tubes have a shorter life – and they have also failing starters to contend with.
But most importantly, ecoLED Tubes run at half the power of fluoro-tubes, resulting in significant energy savings.
Users of ecoLED Tubes will immediately feel the benefits, making their experience "delightful" (no pun intended).
Tenrod
Ph: 02 9748 0655
www.tenrod.com.au