DELEGATES LEARN STRATEGIES FOR RESILIENCE AND GROWTH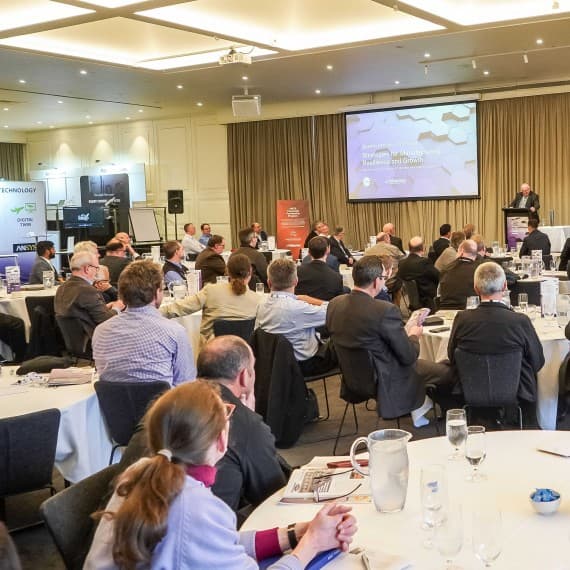 Last week's AMTIL National Conference in Melbourne brought together around 150 delegates from across Australian manufacturing who gathered to learn ways in which they could build resilience in their businesses and in their professional and personal lives.
Under the theme "Strategies for manufacturing resilience and growth", the event included expert speakers from across manufacturing and beyond, examining everything from automation for small manufacturers, to developing effective leadership skills.
The keynote address from Michael Grogan, Director for Victoria, South Australia and New South Wales for the Advanced Manufacturing Growth Centre (AMGC) highlighted recent research findings that Australia has one of the most volatile manufacturing industries in the world.
Grogan cited companies such as ANCA, Marand Precision Engineering, Lovitt Technologies Australia and Sutton Tools as examples of Australian manufacturers that exhibit the three key attributes of resilient manufacturers: superiority, diversity, and flexibility.
"The good news is that when you focus on resilience, you can also become more competitive," said Grogan. "There's no doubt there is a cost involved with building your resilience. But the question is: when that next downturn comes, or when that customer drops us, what is the cost of not having taken those steps to ensure that degree of resilience?"
After a packed morning session, which gave delegates the option following streams on the themes of technology and leadership, lunch provided a valuable opportunity for networking among the delegates.
The afternoon sessions focused on personal resilience and growth, and how you can get the most out of yourself and your colleagues.
Gary Bertwistle led the way. The best-selling author of 'Who Stole My Mojo?' and a leading expert on innovation and creativity, Bertwistle invited the audience to reflect on which businesses and business leaders have 'mojo', that spark of energy and creativity that drives them to high levels of achievement.
"When you think about these people, the number one attribute is that they can envisage a future that doesn't exist yet," said Bertwistle. "What's the dream? What can you see as a leader that doesn't exist yet, that you can see that no-one else can see? That's what these guys do."
In addition to the speaker programme, the event featured exhibition stands from a number of organisations servicing the manufacturing sector in Australia, including: Applied Machinery, Dimac Tooling, Leap Australia, Recruit Australia, Renishaw, Rigby Cooke Lawyers, Phoenix PLM, and main sponsor William Buck.
"The speakers today gave a real holistic view of resilience in manufacturing; it was really well put together in terms of the programme," said Estelle Pentland, Marketing Manager at William Buck. "For us as a sponsor that's what we try to talk about all of the time. Having a stand has been a great opportunity for people to come and talk to us. We like to be visible in the manufacturing space so it just gives everyone a chance to have that face-to-face contact. It's definitely been worthwhile."
Daniel Fisher of Applied Machinery also felt that exhibiting at the conference had been a valuable activity: "It's been fantastic. We've spoken to a few good contacts that we haven't met before, about current and upcoming projects they've got going on. The day's been really positive."
AMTIL CEO Shane Infanti brought the conference to a close by thanking the delegates for taking time from their schedules to attend.
"It's been a terrific day," said Infanti. "We've had a lot of members here, and a lot of non-members, which is very pleasing to see."
AMTIL
www.amtil.com.au