DEFENCE RESEARCH PARTNERSHIP TARGETS THERMAL SIGNATURES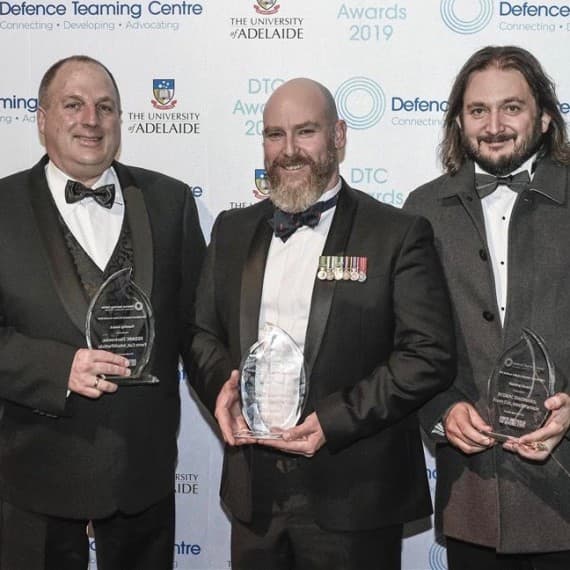 Greg Hancock, IntelliParticle; Mike Hartas, Redarc; and Karl Falzon, Form Cut at the Defence Teaming Centre Awards
A partnership between three Australian advanced manufacturing companies is helping deliver training targets equipped with controlled thermal signatures to the Australian Defence Force.
A world-first in commercial viability and agility, and a new capability for the Australian Government, the product enables army personnel to successfully engage practice targets using remote SMArt155 precision guided munitions.
The new Redarc Thermal Signature Enhancement Kit (RTSEK) ensures weapon sensors can distinguish target vehicles as being operational without the need for complex or hazardous infrastructure. The solution also minimises risk to the environment and personnel using the equipment.
It is the result of a collaboration between two Adelaide companies, Redarc and Form Cut, and NSW-based IntelliParticle, and won the partnership Teaming Award at the 2019 Defence Teaming Centre Awards.
Establishing realistic thermal vehicle signatures to guide the SMArt155 to its practice target would typically have required a generous time frame to both acquire and set-up an expensive system of high-voltage heat mats and large generators, but the RTSEK delivers an innovative solution without all the complex infrastructure and additional costs.
South Australian automotive electronics company Redarc has established itself as a key SME in the Australian defence industry over the past five years. It identified a potential solution and partnered with IntelliParticle, which manufactures carbon and graphite formulations that produce heat under electrical charge.
Through local in-house testing, the combined Redarc and IntelliParticle team discovered that a new controlled thermal signature identifiable to weapons sensors could be created. Redarc then approached manufacturer Form Cut with the solution, having collaborated commercially with the manufacturer previously.
Redarc Managing Director Anthony Kittel says his company, based in Lonsdale in Adelaide's southern suburbs, is well positioned to support unique defence requirements now and into the future.
"The award is a great acknowledgment of what can be achieved when successfully combining the technologies of multiple SMEs," he says.
South Australian industrial design and manufacturing company Form Cut has scheduled more production of the controlled thermal signature solutions for the ADF in the coming months.
Also based in Lonsdale, Form Cut was established in 1999 and specialises in the design and production of gasket, sealing, shielding and packaging solutions in industries including defence, mining, space and medical.
"When Redarc identified a new product opportunity, they sought to team with us to develop a product that exceeded the expectations of the defence customer in terms of cost, timeframe and innovation," says Form Cut CEO and senior industrial designer Karl Falzon.
"The project provided the perfect opportunity for Form Cut to demonstrate the full scope of its capabilities, problem-solving approach and commercial acumen."
Form Cut contributed to the design, specification and production of thermal insulation components and the development and application of conductive polymers, as well as assembling the final product.
The company has confirmed ongoing production and further development of the technology, with plans to export internationally.
Redarc
08 8322 4848
www.redarc.com.au