DEFENCE DECISIONS LEAVE QUESTIONS UNANSWERED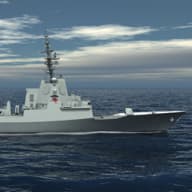 The government's unexpected decision for the final design of the SEA 1180 Offshore Patrol Vessels project has left many unanswered questions, with answers not expected for several months.
Western Australia company Austal will build 10 of the 12 vessels in Henderson, but the government has not chosen to build the design proposed by Austal's teaming partner, Fassmer. Instead, German company Lürssen was selected as the preferred designer. 
Lürssen originally applied in partnership with ASC, and while ASC will not be constructing the majority of the ships, the remaining 2 of 12 will be constructed by them. 
The exact roles, and the supply chain to be used for the two construction efforts, are still to be determined, with negotiations between all companies involved underway. 
"I think initially, because of the fast ramp-up to build, it is likely that the existing [German] supply chain for this vessel will be used, and then every opportunity will be taken thereafter to increase the amount of Australian industry content," Singleton said on the day of the OPV announcement.
Earlier this year, Lürssen Australia and its SEA 1180 OPV teaming partners also announced a scholarship and vocational education programme (the Shipbuilding Education and Apprenticeship (SEA) programme) in support of the Australian government's plans for a continuous naval shipbuilding industry.
The scholarship programme will include work placements in Australia and Europe for selected scholarship recipients with Lürssen, ASC Shipbuilding and Forgacs to develop professional experience.
Whether this program will now include Austal remains unclear at this stage, but Singleton reaffirmed the company remains committed to various education programs.
"We are very much involved in education and these kind of programmes," he said. "We brought in 100 apprentices this year alone. Twenty graduates were involved with Edith Cowan University in education programs. We're involved in defence training colleges, all those sorts of things, and we always have been. We have been for years, not as a result of this program, but we have been for years."
Under the SEA program, Lürssen and its industry partners will offer 12 scholarships valued at $10,000 each, per year, covering tuition and study related costs for relevant shipbuilding courses.
Peter Lürssen said Lürssen is committed to establishing an export hub within Australia, as well as meeting and exceeding Australia's skilling, warship design and construction requirements, as set out in the Naval Shipbuilding Plan, released in May this year.
"Much like our approach in Europe, which incorporates successful exports, we will set up an export hub within Australia to service this region, which is seeing rapid strategic and military developments," said Lürssen.
"It makes perfect sense for us to be investing in local skills and talent. We expect the SEA program to be one way of developing future leaders of Australia's world-class local industry."