DEEP CLEANER TURNS ITS HEAD TO BOOST PRODUCTIVITY
16-11-2017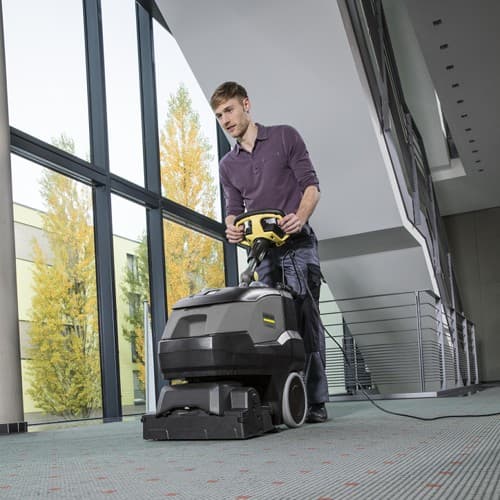 Kärcher has developed a novel deep carpet-cleaning machine that combines high carpet cleaning performance with maximum productivity. The head of the new BRC 40/22 C cleaner can rotate 200° in each direction, which makes it highly manoeuvrable. And because the operator can easily turn the machine at the end of each sweeping run, Kärcher reckons this can cut cleaning time by up to 30%.
The cleaner performs three functions in a single step. Spray nozzles on the front of the machine head apply the cleaning agent solution. A roller brush works the cleaning solution deep into the carpet pile. Then the squeegee wipes it up again, which significantly reduces drying time.
With conventional carpet cleaner designs, as much as 30% of the cleaning time is taken up by getting the machine back into its original position in order to clean in parallel strips. But with the BRC 40/22 C's rotating head, a quick turn of the steering wheel means that the machine is ready for the next strip – in the opposite direction.
The unit can also be manoeuvred easily out of corners: with the head turned 180° the machine can be driven out backwards. And the rotating motion of the roller brush (which works the cleaning solution into the carpet) helps the operator by providing additional traction, whether moving forwards or backwards.
The new cleaner has been designed to be easy to operate, with intuitive controls. A simple rotary switch is used for setting the operating mode. The roller brush and squeegees can be changed without tools. There is a novel cable guide to simplify cable management. And operator comfort is improved with simple height-adjustable handlebars.
The BRC 40/22 C is also suitable for intermediate cleaning with the vacuum unit switched off. This increases the area performance up to 1000m²/h, saves energy and reduces noise emissions.
Kärcher Australia
1800 675 714
www.karcher.com.au