A DECADE ON AND YOUNG ACHIEVER REMEMBERS ARBS AWARD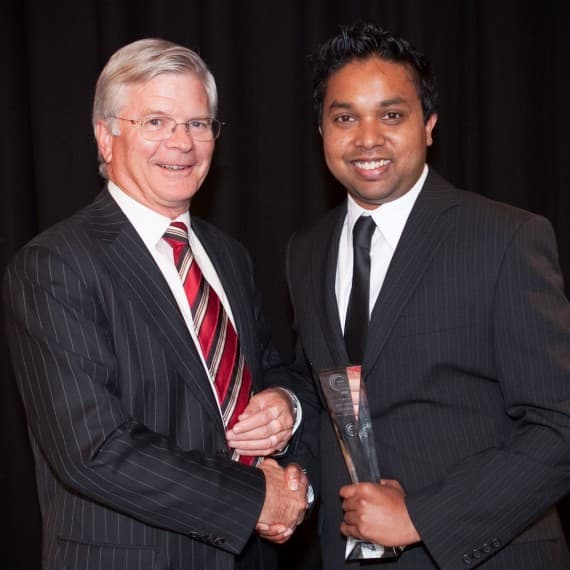 Nirosha Munasinghe receives the ARBS Young Achiever Award in 2010
Nominations are now open for the ARBS 2020 Industry Awards, which will be celebrating their tenth anniversary of recognising excellence from across the HVAC&R and building services industries.
The awards officially began in 2010 in Melbourne as a way of honouring and rewarding the talent that sustains the industry in Australia. Award nominees are reviewed by a panel of judges with extensive knowledge and expertise in the ARBS sector, ensuring the awards are chosen with the highest level of integrity.
Tech architect, Nirosha Munasinghe, was presented with the Young Achiever Award at the inaugural ARBS Industry Awards in 2010 after he was involved in developing open system controls products for the HVAC market.
He also assisted in launching an Australian owned controls company, Open General, which developed BACnet based fully programmable direct digital controllers, networking devices and powerful web-based user interface which were installed in buildings throughout Australia.
Almost ten tears on, Munasinghe says: "Winning this award was a great honour to me at that time and really catapulted my career. It was not expected, we were a very small company back then – a small start-up in Melbourne. It gave a presence to our company, and we were able to establish a distribution network around Australia.
"I then worked with a company in San Francisco, USA in the smart grid space which ended up being an invaluable learning experience. In the last five years I've been working in with a large utility corporate in Victoria rolling out smart meters in a project and operational capacity.
"I am also collaborating in an advisory role with a startup currently in stealth mode and we hope to release a product within the energy sector in the next coming year.
"There is no doubt the HVAC industry is really innovative and growing, a lot of the technologies that are evolving the industry is starting to use; that is why it's great to celebrate our success through awards such as this," he concludes.
The 2020 Industry Awards will be presented during the ARBS 2020 exhibition, from 19th to 21st May 2020 at the Melbourne Convention and Exhibition Centre.
Nominations for awards close on 15th November, with categories including: the Young Achiever Award, the Product Excellence Award, the Software/Digital Excellence Award, the Project Excellence Award, the Outstanding Service & Maintenance Award, the Outstanding Industry Education/Training Award 2020, and inductees to the ARBS Industry Hall of Fame.
Further details and full category and criteria requirements for entry are available on the ARBS 2020 website.