DEB unveils new $15m manufacturing plant
31-08-2010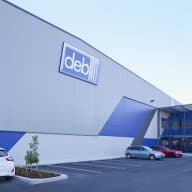 Almost every week a manufacturing business in Australia closes – or moves operations off-shore.
But the Deb Group has defied the trend with the opening of a new $15 million, state-of–the-art manufacturing, warehousing and office facility in South Western Sydney. 
Deb, a world leader in occupational hand hygiene and skin care, will use the new 5000 sqm  facility at Moorebank as its base for the Australian and SE Asian markets. 
NSW Premier and Minister for Western Sydney Barry O'Farrell, attended an opening ceremony recently with Ned Mannoun, Mayor of Liverpool City Council and Melanie Gibbons, Member for Menai.
Deb managing director Steve Saboune said: "At a time when many companies are closing their doors in Australia – and are moving their manufacturing facilities to Asia, this investment in a world class facility and expected staff growth of 10 percent per annum confirms our commitment to the Australian market and its role in growing Deb's presence in the Asia Pacific region."
Deb's commitment is not only healthy for the Australian economy and local employment – it is also opportune for the health of Australian workers.
With flu season expected to impact on some 58 percent of Australia's workers, resulting in lost time, decreased productivity and costly errors, Deb hand hygiene products have a proven track record in successful infection control.
Epidemiology Associate Professor at the University of NSW, Dr Mary-Louise McLaws says workplace hygiene "should be an institutional priority."
The National Notifiable Diseases Surveillance System identified a large increase in recorded influenza cases in Australia last year, compared with previous year's figures and this trend is predicted to escalate. The cost to business in Australia each year through absenteeism is estimated at more than $175 million.
International scientific research proves that hands are the most effective vehicle for the spread of germs that cause common illnesses, through touching everyday surfaces like telephones, lift buttons, door handles, desk surfaces, keyboards and pens – even by hand shaking.
Deb's broad range of hand sanitisers help to prevent and control the spread of infection.
A number of infectious diseases such as golden staph and flu can be spread from one staff member to another by contaminated hands.
Infection control in the workplace aims to prevent 'bugs' from coming into contact with a person in the first place.
Employers are obliged under the Occupational Health and Safety Act (2004) to provide a safe workplace for their employees, including the provision of adequate infection control procedures and the right equipment and training.
An estimated three million Australians in key work sectors use Deb products daily.