DEB LAUNCHES WORLD'S FIRST HEAVY DUTY FOAM HAND CLEANSER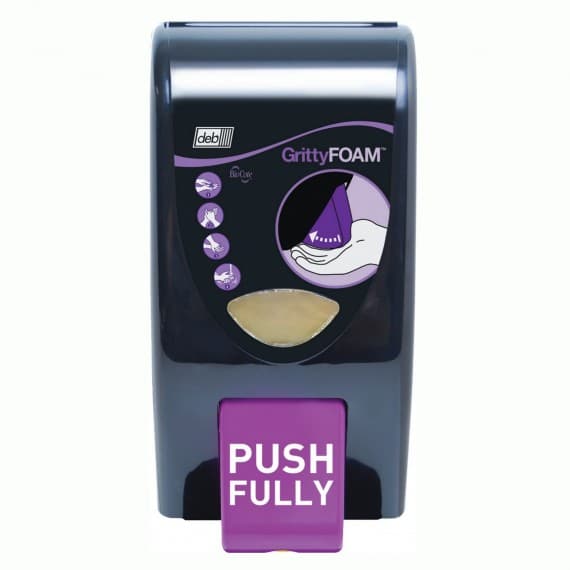 Deb, a leader skincare products for the workplace, has developed the world's first heavy duty foam hand cleanser. 
GrittyFOAM, is not only better for the environment, it can also help to save costs.
In workplaces such as manufacturing and construction, skin irritation and occupational skin disease is primarily caused by exposure to irritating chemicals and substances. 
Regular hand washing using appropriate effective hand cleansers is important to remove potentially irritating contaminants. 
Using hand cleansers that are not only effective, but workers like, drives compliance through appropriate and regular use.
These were the key development objectives for Deb in developing GrittyFOAM.
Deb believes this to be its most significant innovation in its 70-year history of industrial skin care development. 
GrittyFOAM is a combination of Deb's market leading foam science and cutting-edge dispensing technology.
It contains non-abrasive bio-scrubbers suspended in a rich-cream foam to give a deep-down clean without damaging the skin. 
"GrittyFOAM is a completely new experience compared to conventional heavy duty cleansers, says Jason Rigley, National Marketing Manager of Deb Australia & New Zealand.
"Due to the unique infusion of air, 3ml of GrittyFOAM liquid is dispensed on to the hands as 15ml of rich cream foam, providing up to 47 percent more hand washes per litre than traditional dispensing systems, Mr Rigley says.  
"Research has shown that the majority of users of conventional hand cleanser use a minimum of two shots per hand wash – many stating that the reason they do this is because they do not think that one shot provides sufficient volume of soap.
"Therefore by delivering the right volume in one dispenser dose, each 3.25 Litre cartridge of GrittyFOAM contains over 1000 measured 15ml shots of foam. 
"This can result in users reducing the amount of hand wash used, which reduces the amount of chemicals used on the skin and disposed into the environment. 
"For the employer this can also result in a reduction in the overall amount of hand wash used within the business, as well as a reduction in the amount of water and energy used per hand wash".
According to an Industrial Workplace Survey by Deb Group, in August 2012, foam is preferred by 9 out of 10 employees.
GrittyFOAM has been developed to remove all types of industrial soilings, providing an advanced heavy duty hand cleansing experience.   
Deb says it will leave skin feeling softer after use.
And testing has shown that it leaves more moisture in the skin than other heavy duty hand cleansers tested.
GrittyFOAM is available for use in a stand alone dispenser, or as part of a skin protection centre which incorporates a pre work cream and after work cream, in accordance with best practice guidelines. 
Deb Group
Ph: 02 8763 1800