DEALS LINED UP FOR SEA 5000 FRIGATES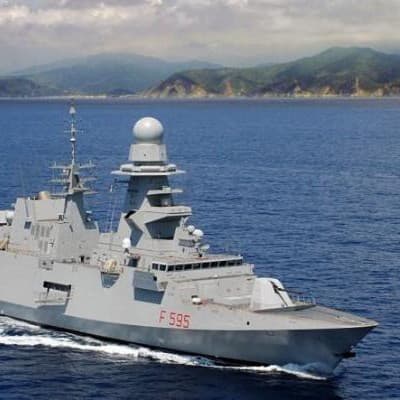 Two Australian companies will join forces with Italian electronic warfare specialist Elettronica to supply electronic warfare systems to the SEA 5000 Future Frigate programme.
Thales Australia and South Australian systems integrator Daronmont Technologies signed memorandums of understanding (MoUs) with Elettronica as part of a joint deal that would see them team to deliver Elettronica's Minerva electronic warfare communications capabilities.
This deal hinges on the acceptance of Fincantieri's bid to supply FREMM frigates to the SEA 5000 project.
Italy's Fincantieri is competing against the UK's BAE Systems and Spain's Navantia to supply nine frigates for the Australian Navy, with a decision expected next month.
Fincantieri has offered its FREMM frigates which is already in service with the Italian, French, Royal Moroccan and Egyptian navies.
Elettronica's Minerva offers electronic warfare support measures (ESM), electronic counter measures (ECM), electronic warfare management (EWM) and communications intelligence.
Elettronica chairman Enzo Benini said it was an easy and logical decision to team with Daronmont and Thales Australia.
"We have developed forefront technologies in the EW naval sector. For this reason, we are willing to support the Australian Navy with our solutions," Benini said.
"We are also teaming with the most valuable partners. I think we have reason for optimism."
Elettronica has previously worked in the Australian market when it installed its ESM on the Royal Australian Navy River Class destroyer escorts in the 1980s.
Elettronica currently supplies its electronic warfare technologies to the governments and armed forces of 28 nations.