DATA CABLES TAKE TIGHT TURNS
06-04-2017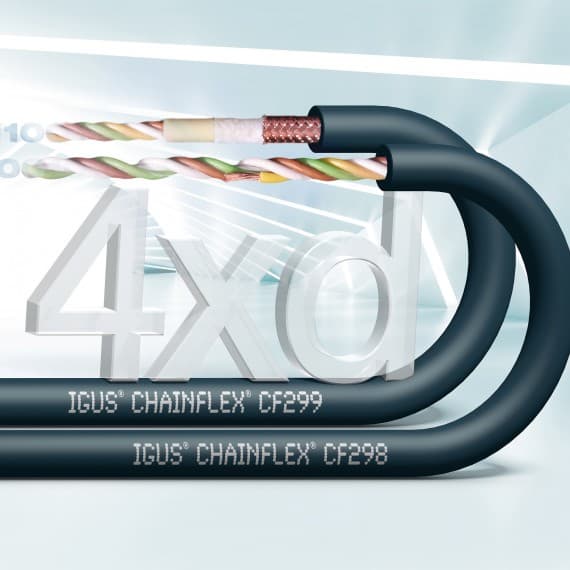 The latest range of igus chainflex data cables from Treotham Automation answer demands for long-lasting cables for use in space constrained dynamic machinery applications.
Featuring an alloy conductor and TPE outer jacket, the chainflex CF298 and CF299 cables can handle tight bend radii down to 4xd with cycle numbers over 40 million strokes. In comparison, the copper cores of conventional cables would typically reach their mechanical stress limits far more quickly.
The new cables are particularly useful for applications that involve repetitive short high-speed movements, such as in pick-and-place machines, materials handling and packaging machinery.
This is made possible by the combination of the new high-performance alloy conductor material and the highly flexible TPE outer jacket, which resists cracking and breakages, and has particularly high abrasion resistance.
High UV resistance makes the cables applicable for both indoor and outdoor use, and they are also tolerant of low temperatures and oil resistant. They are certified according to ISO Class 1, and so can be used in clean rooms.
The CF298 (unshielded) and CF299 (shielded) cables are now available from stock with a variety of core counts and conductor cross-sections. All carry a 36-month life guarantee.
Treotham Automation
02 9907 1788
www.treotham.com.au