DATA ACQUISITION AND REAL-TIME CONTROL SYSTEM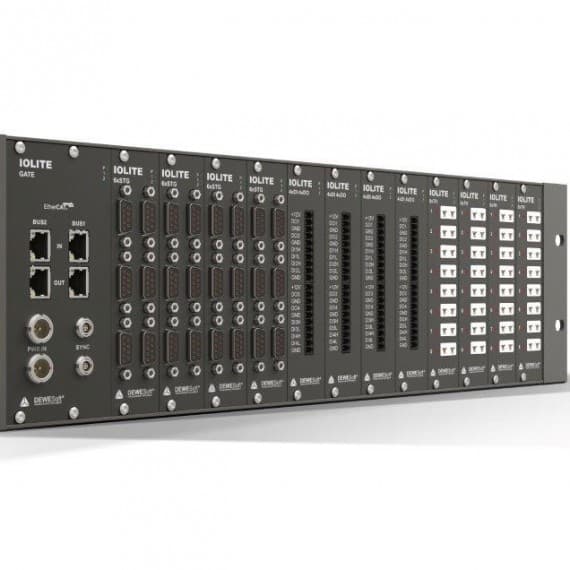 Dewesoft's Iolite is an all-in-one solution for real-time control and feedback monitoring, allowing the operator to acquire and monitor the data in daily operations while tuning the control systems. Each Iolite system has two fully independent EtherCAT bus systems that work in parallel. The primary bus is used for perfectly timed and synchronised data acquisition via DEWESoft X software, and the secondary bus can be used as a low-latency front-end interface for real-time controllers, and as a redundant data acquisition bus system for critical applications input.
The Iolite chassis can be configured with up to 12 slots, each featuring high-quality input amplifiers, including the 6xSTG, a universal analogue and strain gauge amplifier which is compatible with Dewesoft smart interface DSI adapters, the 8xTH isolated thermocouple amplifier, the 32xDI, a 32 channel digital input and the 32xDO, a 32 channel digital output with watchdog.
Each Iolite system is equipped with a redundant power supply. If the primary power supply fails, the system will be powered by the secondary power supply without any interruption or system shutdown/restart.
The standard Iolite chassis has a rack height of 4U, and is compatible with and can be mounted in any 19in rack cabinet. It is also available in standalone aluminium chassis compatible with Sirius data acquisition instruments. The chassis provides 8 slots for Iolite input and output slices to be installed.
Dewesoft is represented in Australia and New Zealand by Metromatics.
Metromatics
07 3868 4255
www.metromatics.com.au