Darwin gears for ground breaking safety show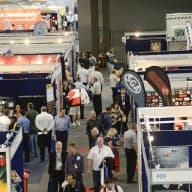 Australia's largest safety trade show Safety in Action is heading to Outback Australia.
The exhibition –  a one-stop shop for all things safety – will occupy the Darwin Convention Centre on Wednesday March 19 and Thursday March 20.
The event will feature a comprehensive range of the latest safety-related products and services from around the country.
Nearly 100 exhibitors will showcase their latest goods and services at the show.
Safety in Action Darwin will also provide attendees with unique opportunities to hear from the industry's most innovative and safety-conscious brains.
With Australia's unemployment rate at relative highs, it is refreshing to note that the Northern Territory has the lowest unemployment rate of any Australian state or territory.
After taking a fall with the impact of the global financial crisis in 2008, manufacturing production staged a recovery in 2009-10 and has continued to strengthen and grow.
From 2012-2013 the manufacturing industry employed close to 100,000 people nationwide and contributed approximately $105 billion to the economy.  
In the City of Darwin, manufacturing has the highest percentage of total imports and follows closely behind the mining industry for the total amount of exports. Machinery and equipment mark the highest export trade in the Northern Territory, giving good reason for the focus on safety procedures in the workplace.
Some of Australia's best known and respected companies will be exhibiting their products and services for guests and fellow industry professionals. Key to the manufacturing market – Arbon Equipment and Materials Handling are among the leading presenters.
Arbon Equipment is a wholly owned subsidiary of Rite-Hite, the recognised world leader in Loading Dock, Door and Aftermarket Safety Systems.
Headquartered in Milwaukee, Wisconsin USA, Rite- Hite is a world-wide leader in the development, manufacture and sale of loading dock safety systems and industrial door solutions. Exhibiting in Darwin 2014, Arbon will present a range of brochures and giveaways with emphasis on loading docks, large fans, high speed doors and barrier systems.
Among a range of manual handling devices to have their customers "working with ease", Materials Handling Pty Ltd will be displaying its innovative A-Safe Polymer Safety Barriers, manufactured from Memaplex. These barriers provide safety in the workplace, thanks to their built-in memory and ability to revert back to their original shape upon impact.
A series of free seminars will also be held giving attendees an opportunity to learn directly from leaders and experts from various safety-related fields.
Exclusive to Safety in Action Darwin, Safe Work Australia will host a one-off free training session on the popular subject: The Globally Harmonised System of Classification and Labelling of Chemicals. This exclusive session will provide attendees with all they need to know about the new labelling classification of chemicals.
Safety in Action Darwin is part of a series of national safety shows hosted by Informa Exhibitions Australia.
One major three-day show will run in September each year, alternating between Sydney and Melbourne.
Shows in Perth and Brisbane will be held in June and April across alternating years.
The Darwin Show is scheduled to be held every four years.
www.safetyinaction.net.au/darwin
You can also keep up-to-date with the show on Twitter by following @SIAevents #SIADarwin
To register for GHS Training head to: http://www.safetyinaction.net.au/darwin/visitor/whats-on/safe-work-training