Darwin gears for first major safety show
31-08-2010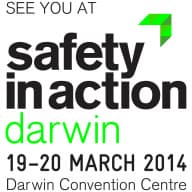 A comprehensive range of the latest safety-related products and services from across Australia will be on show at Safety in Action in March – to be held in Darwin for the first time.
The two-day event, to be held at the Darwin Convention Centre from March 19-20 will also feature presentations in workplace safety by industry experts.
Darwin's import and export trade is currently booming and shows no sign of slowing down.
Local manufacturers now have a strong focus on correct safety procedures and on fostering positive attitudes toward workplace safety.

More than 75 exhibitors will showcase their latest goods and services at the expected sell-out show.
Exclusive to Safety in Action Darwin, Safe Work Australia will host a one-off free training session on The Globally Harmonised System of Classification and Labelling Chemicals.
Safety in Action Darwin is part of a series of national safety shows hosted by Informa Exhibitions Australia.
One major three-day show will run in September each year, alternating between Sydney and Melbourne.
Shows in Perth and Brisbane will be held in June and April across alternating years.
The newly added two-day show in Darwin beginning in March is scheduled to be held every four years.