THE DARKER SIDE OF SOLAR PANELS
11-07-2016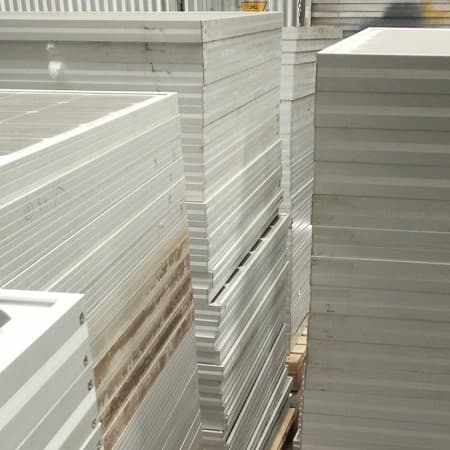 Hundreds of thousands of solar panels break every year, and as more and more people adopt solar this trend could lead to enormous amount of electrical waste; an environmental impact that goes against the ethos of solar power.
Thankfully, Australia's only solar panel recycling company is beginning to scale up production in the face of more and more solar panels being discarded and broken.
The Adelaide-based Reclaim PV has teamed up with major solar panel manufacturers who distribute in Australia and is combating the wastage increase in two ways:  refining its processes and lobbying for solar panels to be included in recycling regulations.
"We saw the need for the maintenance of solar. We saw a lot of sales happening but not a lot of after sales stuff, there was a vacant space," Clive Fleming said.
Clive and David Galloway started Reclaim PV in 2014, branching out of Solar Maintenance and Renewable Technologies (SMART), which they launched in South Australia in 2011.
"From [SMART] we saw a demand for recycling – we were removing a lot of modules from roofs and we were left with a big pile of about 600 panels."
Recycled panels are not recirculated, they are dismantled using a Pyrolysis process developed to remove glues and recover glass, aluminium, solar cells and contacts.
"We're trying to value add to the cells so they can be reused – not as solar panels  - but in new self powered products," Fleming said.
Galloway and Fleming are working with a leading Australian research facility to get more value out of the recycled solar cells and streamline the dismantling process.
They conservatively estimate 100,000 to 150,000 panels a year need replacing in Australia.
"It's not as simple as finding solar panels that are broken and recycling them, there are undiagnosed systems out there and all these solar installation companies are now turning to servicing and that's bringing in more diagnoses," Fleming said.
"It's going to be steady for the next 15 years and then it's going to ramp up into the millions every year needing to come off the roofs."
"I think because it's PV, people want to recycle anyway - people who buy solar panels are generally concerned about the environment."
Australian CleanTech Managing Director John O'Brien said official protocols around the recycling of PV solar panels would become increasingly important in the coming years as millions of panels came to the end of their useful life.
"There's a great business opportunity there if government signals that in good time," he said.
"The big providers will need a local smart company to go and pick them up, process them and do good things with them so certainly it's going to be huge."
A report released in June predicts solar panel waste could total 78 million tonnes globally by 2050.