Published 18-07-2019
| Article appears in August 2019 Issue
DANISH SUSTAINABILITY VALUES CLEAN UP IN BLACKTOWN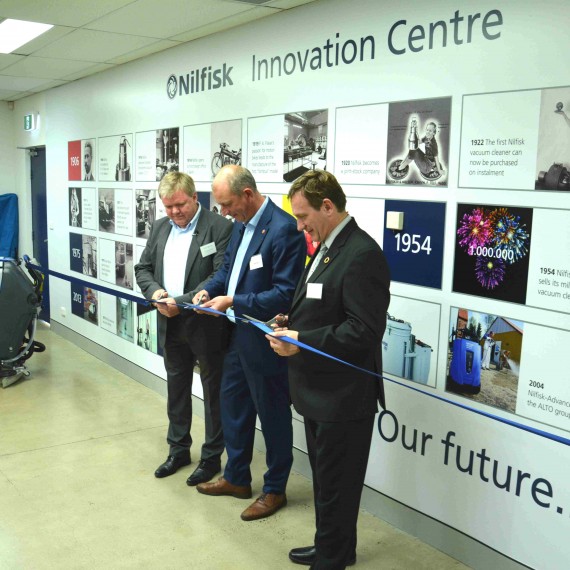 Closer ties between Denmark and Australia were certainly the order of the day at the recent opening of the new Nilfisk Australia headquarters at Arndell Park in Sydney's west. The ribbon cutting ceremony was a three-way affair between Danish Ambasador Tom Nerring, Nilfisk Pacific MD Michael Hansen and Councillor Stephen Bali, the Mayor of Blacktown City.
The new facility, which will act as a central hub for Nilfisk's four other warehouses around Australia (and a further two in New Zealand), covers a little over 2700m2. It combines warehousing with a fully equipped workshop and a mezzanine office level that has been laid out in Danish open-plan style.
MD Michael Hansen was keen to point out that nobody (himself included) has their own office. There are breakout rooms for private meetings, but for the daily routine, the open-plan design reinforces the company ethos of "one team, one agenda".
The warehouse is an interesting one as it has to deal with both European and Australian pallet sizes, which has led to some degree of innovation in the racking design. And between the finished machines and the essential stocks of spare parts, it houses in excess of 25,000 different SKUs, and is currently receiving a container-load of stock every day.
In addition to maintenance, the workshop is responsible for commissioning and customising the vast majority of the cleaning machines that arrive from Nilfisk's factories.
Speaking at the opening, Ambassador Nerring highlighted his nation's emphasis on sustainability and adherence to the UN's sustainability goals, which he said were not yet adhered to quite so closely in Australia. "Nilfisk has embraced those goals," he said, "and has done so in a very clean way".
Michael Hansen added that Australia was viewed as a key market for Nilfisk – and for many other Danish companies – taking the view that "If we can get it to work in Australia we can get it to work anywhere, which is why Nilfisk releases its new models in Australia ahead of most of the world".
And in his former role as the former Trade Commissioner of Denmark to Australia and New Zealand, Hansen could confirm that other Danish household names including cookware giant Scanpan and jewellery manufacturer Pandora, take a similar view of the Australian market.
For the local view, Councillor Bali highlighted the phenomenal growth of the City of Blacktown, with its population of 370,000, and an economy that has been growing at a rate of 4.6% for the last five years, now reaching $17.1 billion.
"Thank you for making Blacktown your home," he said, "contributing to the fastest growing city in Australia."
Nilfisk
1300 556 710
www.nilfisk.com