Dangerous goods storage and handling courses
31-08-2010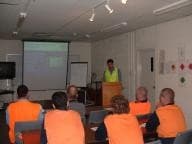 Chemical System Consulting (CSC) is running one-day training sessions for employees who are exposed to, work with, or who are responsible for the storage and handling of dangerous goods and hazardous chemicals.
The course provides participants with basic knowledge necessary for safe storage and handling of dangerous goods and other chemicals in their workplace.  
It is an intensive interactive one-day course that focuses on learning practical safe work practices using the participants' workplaces, knowledge and relevant case studies.
The course assists employers to fulfil their obligations under the relevant national, state and territory OH&S and environmental legislations and statutory requirements.
The five to six hour course can be held on a client's premises or at a CSC training facility with a maximum of 12 participants. Upon satisfactory attendance and completion of a quiz, participants will receive a Certificate of Completion. 
CSC is an Australian based technical training and dangerous good consulting group.  Their engineers and OHS&E professionals have core competencies in safe storage and handling of dangerous goods and are members of the Australasian Institute of Dangerous Goods Consultants.
For enquiries or to make a booking, contact CSC on 0409 784 236 or 0421 795 353, via email at info@h2orx.com.au or visit the website at www.h2orx.com.au.