CYLINDER SECURITY DEVICE HAS INTERNATIONAL APPEAL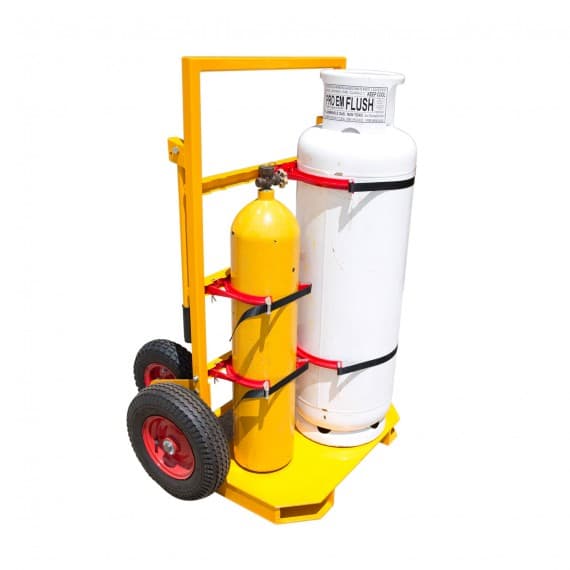 It may well have been developed with a very Australian application in mind, but the Australian Made BottleChock from VisionSafe is rapidly becoming an international success.
The BottleChock is purpose designed to keep cylinders of all types secure, and is ideal for gas cylinders, oxygen tanks, fire extinguishers and oil drums. It can be used in fixed installations, such as securing a fire extinguisher to a wall, or in mobile applications, keeping loads safe in working vehicles – and particularly in utes.
"Bottlechock is registered as an Australian Made product and we are very proud of that," says VisionSafe Managing Director Dean Roberts.
Virtually all of the components are manufactured in Australia and the product is assembled at VisionSafe's headquarters in Perth.
Available in galvanised or stainless steel, this exclusive Australian designed product grips around and keeps in full contact with the cylinder, restricting both horizontal and vertical movement.
The flexible design makes it easy to "snap" cylinders into place, and the cylinders can be easily changed with one pull buckle and strap.
Each Bottlechock comes ready to install with an easy fit kit, with top and bottom fittings included. Sizes range from small (100-145mm), to medium (160-230mm), and large (245-375mm). There are also kits that can hold up to four cylinders in separate, individual chocks contained in a single bracket.
The Bottlechock is used in many different industry sectors. It has proved particularly popular in the mining industry, and has also been successful in manufacturing, agriculture, construction, health and defence.
And this success is not limited to Australia.
"We've been exporting to New Zealand and the UK for some years," says Dean Roberts, "and we're just about to break into to the US market."
VisionSafe
08 9295 0624
www.visionsafe.com.au