CYLINDER CONTROL SOFTWARE IMPROVES STRAND JACKING
13-07-2017
by
in
Materials Handling & Equipment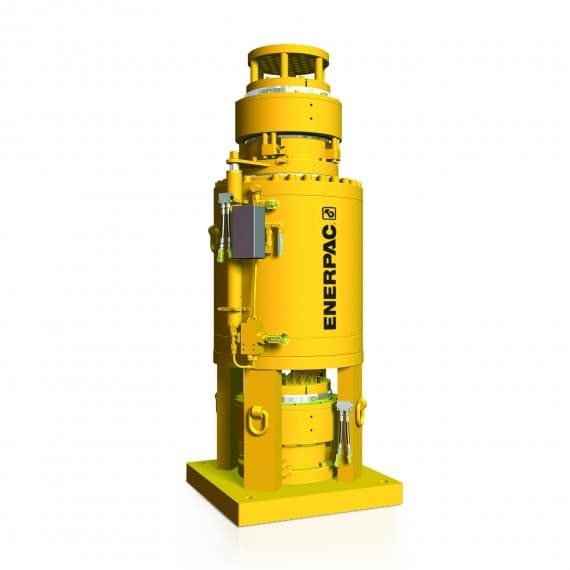 Enerpac is improving one of the world's safest and most accurate methods of heavy lifting, strand jacking, with computerised synchronisation of lifts involving multiple hydraulic cylinders handling loads of hundreds and thousands of tons.
Enerpac HSL Series strand jacks – in individual capacities from 34 to 1405 tonnes – are being matched with a sophisticated SCC smart cylinder control system software program that synchronises the motion of the strand jacks and adjusts the motion to the loads per lifting point.
Enerpac Australasia Heavy Lifting Technology Manager, Warren Baltineshter, says the SCC program enhances the value of a proven heavy lifting technology that has demonstrated considerable worth on major Australasian construction, infrastructure projects and resources, where it has provided synchronous control of heavy lifting capacity within an economical and compact footprint.
The Enerpac strand jacking system – which has been employed within Australasia on lifting 12 mining ball mills weighing up to 1400 tonnes each, for example – is ideal for precision heavy lift projects such as bridge lifting, mining, oil and gas plant and rigs, silo maintenance and materials handling plant.
Each HSL system is supplied with the SCC hardware and software package as standard. The SCC system not only monitors progress, it controls the operation within safe working limits specific to the particular job and client demands.
"For example, the system governs maximum permissible load and synchronous position at each lifting position and between them, which are key parameters that the SCC uses to precisely manage the lifting operation," says Baltineshter.
Powered either by electrical or diesel-driven hydraulic power packs, the HSL system can be controlled by a single operator from a central location for increased safety. Automatic locking/unlocking operation provides optimum load control and load holding. And telescopic nickel-plated strand guide pipes prevent bird-caging (in which wire rope strands are untwisted and spread outward) enhancing smooth and reliable operation.
According to Warren Baltineshter, strand jacking offers compact high-capacity lifting capabilities that are easy to deploy, compared with mobile and crawler cranes. The technology offers a high lifting height, with true vertical lift and no drift.
"Strand jacks are recognised today as one of the most sophisticated, safe and precise heavy lifting systems, used to lift and lower loads where the use of conventional cranes is neither economical nor practical. SCC control advances the technology even further in this regard," he says.
Enerpac
02 8717 7200
www.enerpac.com.au
Materials Handling & Equipment