CYLINDER AUTOMATION SYSTEM TO TRANSFORM GAS LOGISTICS
05-03-2018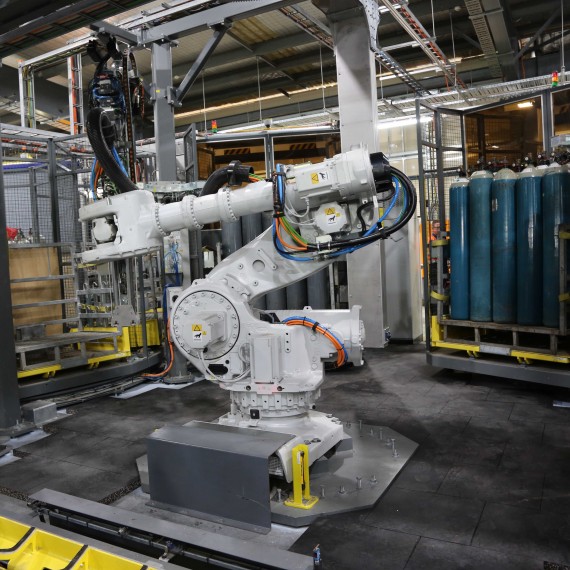 BOC Australia has opened a new $20 million specialty gases production facility and $15 million robot cylinder automation system at its Sydney Operations Centre in Wetherill Park.
The new facilities were officially opened by Minister for Resources and Northern Australia, the Hon Matthew Canavan MP and Minister for Western Sydney, the Hon Stuart Ayres MP.
John Evans, BOC South Pacific Managing Director, said the new specialty gases facility will increase BOC's capacity to locally produce and supply more than 8000 high-purity and specialty gases to many high value industries in Australia – from science and medical research, to manufacturing and energy exports.
The new robot cylinder automation system is transforming the way cylinders are sorted, picked and moved around the busy production site. The system is a world-first application of a six-axis robot combined with four turntables that can see, pickup and handle cylinders.
"The launch of this cylinder automation system is a landmark moment for BOC, driving a competitive advantage, and representing a significant safety investment for the Sydney Operations Centre, which produces more than 1.3 million cylinders each year," said John Evans.
Professor Dr Aldo Belloni, Chief Executive Officer of parent company The Linde Group, said the new facility is a clear example of the cutting-edge innovation that is seen across The Linde Group globally.
"Innovation is in our DNA. The Linde Group pride ourselves on being the world leaders in innovation in the gases industry, and BOC in Australia is leading the new era of automation. With the addition of the new world class special gases facility, the Sydney Operations Centre is not only one of the busiest production sites within the Linde Group but is now at the forefront of integration and automation in production globally."
BOC has invested more than $130 million at the Sydney Operations Centre since it was opened. The site has a cylinder maintenance centre, dedicated medical gas filling facility, dissolved acetylene plant, nitrous oxide plant, specialty gases production facility and dry ice production facility.
BOC
131 262
www.boc.com.au