Cutting through the hype when selecting a saw
06-08-2013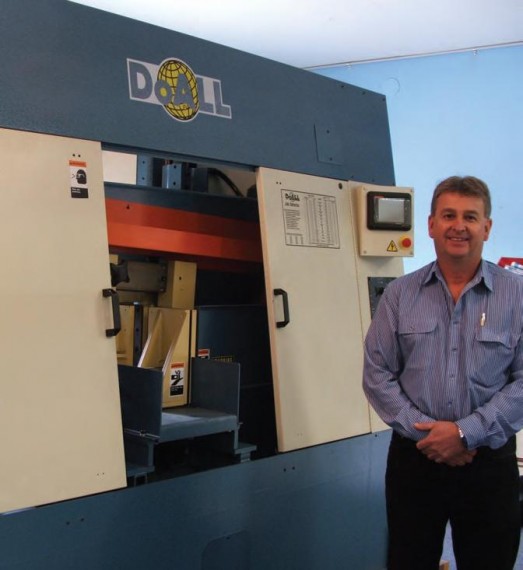 When it comes to machine saws and blades, Mark Power is one of the sharpest operators in his field.
Mark has been with DoALL, a global leader in sawing products, for more than 30 years.
Now general manager of the company's Asia-Pacific operation, Mark says many people still tend to look at saws as an "agricultural piece of equipment" rather than a machine tool.
"But in actual fact it IS a machine tool – and probably has the hardest job of any tool," he says.
Mark says many people tend to choose a machine saw based on capacity – and the volume of material required to be cut.
But many more factors need to be taken into account, he says.
"It's a matter of looking at your application – not just at capacity."
Mark offers the following advice to individuals and companies when selecting machine saws:
"You should look for quality components, he says. "It's not always about capacity.
"You should also consider the blade tension, guides, tolerance and rigidity.
"Most people don't ask those vital questions – but that's what gives you tool life – that's what makes the blade last longer."
The way a machine is built and configured tends to dictate how long it will last.
"If it is not set-up properly it won't matter what kind of blade is being used, it will destroy it – you won't get the true life out of it."
Mark says it pays to get expert advice.
DoALL advises its clients on how to choose the best saw and blades for each application.
"Many people when buying a saw just look at capacity and whether the machine is manual and automatic," says Mark. "We advise on the type of machine needed for an application as well as providing advice on the choice of blade, including pitch."
It is vital to look for quality, says Mark.
"People think they are saving money by buying cheap machines and blades, but it is costing them money in the long run. If you buy quality, it lasts.
"We are still servicing some DoALL saws that were produced in 1960."
Marks says by buying high quality materials a business can improve productivity and increase profits.
"By choosing the right machine and blades you will have less downtime, better tool life, longevity of equipment and lower maintenance costs."
Mark says DoALL is one of only two companies in Australia that is owned by its overseas manufacturer.
Its parent company is headquartered in Minneapolis, with a corporate office in Chicago.
Founder Leighton A. Wilke invented the bandsaw blade in 1933.
Today, DoALL Sawing Products is the only US manufacturer to offer a total sawing package including sawing machines, blades, cutting fluids and material handling.
As well as the US, DoALL has outlets in Europe, Canada, Mexico and Australia.
The Australian operation was established in 1970 and is recognized as a market leader.
DoALL spends in excess of $10 million on R&D to ensure it stays ahead of the game.
In Australia, DoALL has its headquarters in Sydney, with a distribution network Australia-wide.
"We install and service all machines … and we can service other manufacturer's machines as well, says Mark.
Mark says while there are a few companies supplying high quality machine saws and accessories, no-one can match DoALL's experience and back-up service.
"The difference is we have the knowledge – we can solve any sawing problem."
DoALL Australia Pty Ltd
Ph: 02 9671 5011