Cutting through a heavy workload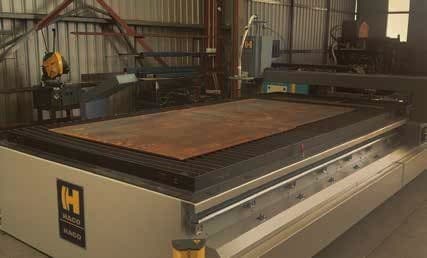 The mining industry continues to operate at full capacity requiring a demanding workload from the miners and associated businesses.
With lead times being crucial, Perth-based Ox Engineering felt it was time to look for a solution to alleviate the pressure, minimise lead times and bring outsourced plasma cutting work in-house.
Ox Engineering is a specialist company based in Perth, WA, providing products, parts, repairs and service for the drilling and exploration sector.
The company supplies customdesigned products to suit the different types of drill rigs used in exploration – some examples are: dual rotary water well rigs, large oil and gas rigs, diamond drill rigs and reverse circulation.
All of these drill rigs require different products for sampling, maintenance and safety; handrails, platforms for personnel and auto mobilising specialised equipment to take manual handling down to a minimum.
With demand for exploration high to find the next mineral source, drill rigs are put through their paces, requiring many spare parts, rebuilds or retrofits to keep them commissioned. In order to manufacture those parts, designs are generated using 3D CAD software and then outsourced to specialist companies for cutting.
Given the robust outlook for mining, Heath Oxley, manager of Ox Engineering, felt it was time to buy a CNC plasma cutting machine and bring the plate cutting in-house.
He decided to choose the HACO Group. With other products such as pressbrakes, turret punchers and rollers, Oxley felt that the company was experienced in the type of machinery he was after and would also offer excellent support.
As a result, Oxley chose a KOMPAKT 4020 CNC plasma cutting machine from HACO Australia.
The KOMPAKT 4020 boasts a cutting table of 4000mm x 2000mm and a positioning accuracy of ± 0.1mm and Hypertherm's patented HyDefinition plasma cutting system. The machine is more than capable of cutting materials of up to 32mm of mild steel and happily copes with stainless and tempered high-tensile steel.
To ensure optimum cutting accuracy and speed, the gantry of the KOMPAKT rests on over-sized linear guides and is driven on both sides by brushless AC Servo motors and rackand- pinion systems.
Two over-sized linear guides are mounted on the gantry itself for accurate Y-movement of the cutting head rest. The X-axis is also controlled by a brushless AC Servo motor with rackand- pinion system. The touch screen control panel is intuitive and allowed the team at Ox Engineering straightforward control of the cutter with minimal training. It also provides the user with information on consumable lifecycles to minimise wastage and downtime.
"Previously, our lead times were too long; by the time the drawing was finalised and then outsourced for cutting we could potentially have lost 3-4 weeks. Now, with our own plasma cutter, once the drawing is complete, it can be cut in an hour. It has cut our turnaround time to a tenth of what it was," says Oxley.
Haco Australia Pty Ltd
Ph: 08 9414 8009