CUTTING EDGE SOLUTION FOR VIC ENGINEERING FIRM
03-05-2016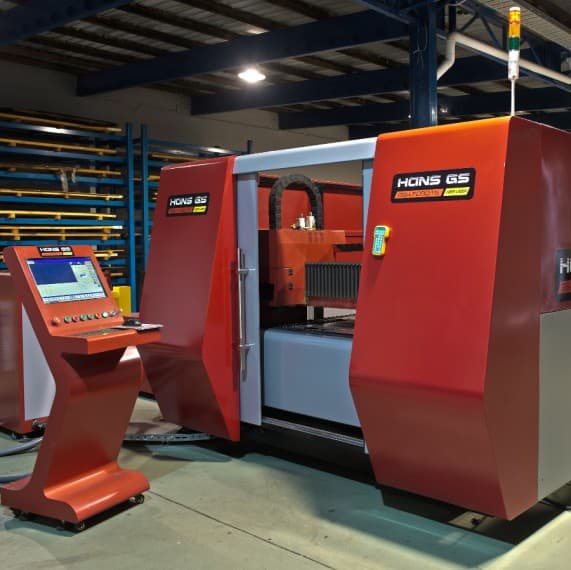 Cutting edge solution for VIC engineering firm
Applied Machinery, one of the oldest and most respected dealers of new and used machinery in Australia, has recently installed a new fiber laser cutter at Jmar Engineering at Shepparton, Victoria.
Founded by Mark and Janice Hooper 22 years ago, Jmar specialises in component manufacturing and repairs across a broad range of industries including those associated with conveyor and package handling equipment.
A commitment to providing outstanding customer service, staying abreast of local trends and ongoing diversification has seen the company achieve steady growth and increase its customer base since inception.
An example of that diversification has been the way the company now undertakes a considerable amount of "reverse engineering" – fabricating many components and parts that clients may have previously bought from overseas suppliers.
In addition to component manufacturing the company has been a supplier to the agricultural industry for over 20 years with a unique product called the Christopher Dairy Bails.
This is a retrofit product suitable for herringbone dairies that allows the farmer to feed in the bail at milking time.
Nearly all Jmar's business comes from around the Goulburn Valley area within a 50km radius of Shepparton.
Last year MR Hooper spotted an opportunity to invest in a laser cutter to further grow his business and enhance the quality of the end product – after further research a fiber laser cutter appeared to be the best choice.
Fiber laser cutters offer a number of other significant benefits including extreme accuracy, speed and consistency of cut, coupled with very low operating costs.
Mr Hooper's interest in fiber lasers saw him issue a challenge to Applied Machinery to supply him with a machine that would meet both his performance criteria and budget restrictions – a challenge that Applied was pleased to accept.
After a detailed presentation, Mr Hooper became Applied's inaugural fiber laser cutter customer with the supply and installation of a Hans GS LFD-3015 1kW Fiber Laser Cutting System.
"The new Hans fiber laser installed in late February is already paying huge dividends for us. Not only is it improving productivity and quality of our finished products, but it has also opened up new market opportunities," Mr Hooper said.
"We're seeing work that we would never have seen and quoting on jobs that we have previously not been able to quote on – the new Hans fiber laser is really helping to expand our business."
Another benefit of the new machine is the quality of the finished product coming out of the company's pressbrake is now far superior, due to the huge increase in quality of the prebend parts from the fiber laser compared to their plasma.
The Yawei pressbrake is co-incidentally another product supplied by Applied Machinery.
"Quite simply the new Hans fiber laser ticks all the boxes," said Mr Hooper.
And not only is he rapt with his new machine he also raves about the quality of Applied's service during the pre purchase and installation process.
"Applied's service is unquestionably outstanding. I have been overwhelmed with the support and commitment of Applied's staff. Their ability to resolve any issues that did arise was really pleasing.
Throughout the process Matt Keogh, Applied Machinery's Service Manager has continually checked to ensure we were completely satisfied with the operation of the machine and the quality of the training," Mr Hooper added.
"This new fiber laser is completely in keeping with the ethos of Jmar Engineering. It not only allows us to produce the highest quality components in a faster time, but also provides us with the opportunity to add to the diversity of products we produce."
Applied Machinery
Ph: 03 9706 8066