Cutting edge scissor lift from Optimum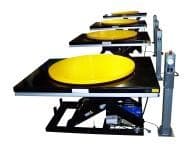 Optimum Handling Solutions' electric hydraulic scissor lift tables with the popular Logic Lift height sensor option are a smart lifting solution.
These tables are being implemented and applied across a large range of industries – especially those that frequently handle palletised goods.
A large national distribution centre recently put into action multiple scissor lifting units into their Wetherill Park branch, with outstanding results.
"The whole de-palletising process has sped up amazingly and most importantly has reduced a lot of safety hazards," says the Wetherill Park plant manager.
Contact Optimum Handling Solutions to find practical solutions to your manual handling issues.
Optimum Handling Solutions
Ph: 1800 066 008