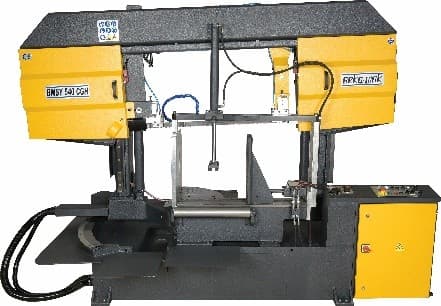 The European made BEKA-MAK BMSY-540CGH semi-automatic, double column and swivel head band saw has been designed for manufacturing industry, engineering shops, steel fabrication and steel merchants.
Offering many features that deliver high precision and impressive productivity, this model band saw features 750mm x 540mm rectangular capacity and a double column structure for heavy duty cutting to length of structural steel beams and sections.
Ideal for bundle cutting
The machine features an inverter variable speed blade control, a hydraulic top clamp for bundle cutting and a swivel head for mitre cutting up to 60 degrees. A two-degree blade incline further improves cutting performance.
A hydraulic blade tension device with blade breakage detection enables precise blade tensioning and linear guideways provide long-term cutting precision and durability. There is a vibration dampener control for adjusting the cutting pressure of the bow to suit different materials.
An optical material height sensor eliminates air cutting time on multiple cuts, enabling the blade to lower quickly to start the programmed cut feed rate immediately the blade contacts the material.
Easy set-up
A digital readout display assists mitre cutting accuracy, while a laser line zero setting for the initial blade contact makes set-up fast and easy. Bundled material to the machine's full capacity is securely clamped by large 500mm high vice jaws, and the full stroke cylinder vice makes it easy to change the clamping size to suit the steel being cut.
Optional accessories include an in/out feed roller conveyor system for heavy material handling, and a powered swarf conveyor. Other BEKA-MAK band saw models are available with the capacity to process material sizes up to 910 mm x 750mm.