Cut injuries slashed with Ansell safety gloves
21-10-2013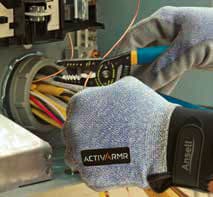 For more than 60 years, West Australian manufacturer Kounis Metal Industries has been supplying sheet metal products for mining and commercial construction projects.
Central to the company's success has been the special emphasis it places on safety. "Occupational Health and Safety is integral to our vision and values," said safety consultant for Kounis, Jennifer Butler.
"We have more than 150 operators working in fabrication and electrical assembly, and in the fit shops, paint shop, despatch and transport areas – so safety is always our top priority," says Ms Butler.
"We work with sharp objects and hazardous substances so protection against cut and piercing injuries and chemical exposure is critical."
Ms Butler says choosing the correct personal protective equipment (PPE) for each task is essential.
"We're grateful for the guidance provided by Ansell in this area, she says. "They have a huge range of safety gloves to choose from and they help us identify the type of protection we need for each task."
This collaborative approach has led to a 50 percent reduction in cut injuries.
"When it comes to safety, sometimes you only get one chance and we would rather be proactive than reactive", she added. "We have managed to halve our injury rate simply by choosing the correct glove for each task."
Ms Butler found the Ansell HyFlex 11- 624 is ideal for warehouse work.
It offers advanced (ANSI 2) cut resistance for handling sharp objects, and provides a bare-hand like sensation for workers operating machinery and equipment. The tight fit is essential for avoiding entanglement within machine areas. The excellent dexterity, comfort and breathability also mean operators don't sweat in the gloves so there are no dermatitis issues.
"We chose the Ansell ChemTek 38-514 for weld cure as it provides the best resistance to the most aggressive chemicals without compromising dexterity or comfort, said Ms Butler. "It also has that extra-long length hand protection and less risk of allergies due to the absence of latex. We also use Ansell's AlphaTec 58-530 and AlphaTec 58-535 for superior grip and chemical resistance, especially on oily surfaces."
The company says it uses Ansell's ActivArmr 97-001 Electrician Gloves in electrical assembly areas because it provides full protection against wire punctures, cuts and abrasions.
"Our electrical teams spend hours wiring units so they need a bare-handed feel," Ms Butler explained. "The gloves have an adjustable wrist closure for comfort as well as an ID nameplate, which is good for hygiene."
Kounis Metal Industries conducted glove trials on site with the various brands across all PPE.
"We also came up with a photobased matrix to help workers, supervisors and managers quickly pinpoint the appropriate PPE for each task, and to easily understand how to use each item, Ms Butler said. "Visual displays are more meaningful than theory. They save valuable time and they also help when there is a language barrier."
The company decided to use Ansell gloves throughout its operation after conducting extensive field trials.
"We've found Ansell delivers excellent quality for the price, said Ms Butler.