CUT DOWN ON WASTE WITH GENOX RECYCLING SOLUTIONS
31-08-2010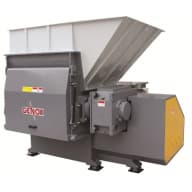 Waste reduction and the associated recycling has become a crucial part of the Australian landscape over the last few years.
It plays a key role in minimising landfill and using recycled material in the manufacture of new products.
When it comes to waste management, Applied Machinery Australia, one of the largest and most respected dealers of new and used machinery, provides the ideal solution.
Applied Machinery is the sole Australian distributor for the extensive range of Genox granulators, shredders and complete recycling line.
Genox, an abbreviation of Generating Oxygen, aims at creating a better environment through new and innovative technology.
Genox management and employees work by this principle and constantly strive for the most effective, reliable and cost-effective solutions for waste materials recycling.
Over the past few years Genox has developed an extensive range of technically advanced machinery for waste material processing, in three specific areas:
Plastics – including rigid or hard bottles, plastic film and general plastics
E-waste – including printers & toner cartridges, cables, computers and hard discs
Scrap metal.
For plastics processing, the Genox range comprises single shaft shredders, twin shaft shredders, granulators, washing tanks and dewatering centrifuges.
When it comes to e-waste, copper cable and UBC's, the range includes shear shredders, heavy duty granulators, vertical crushers (densifiers), Eddy current separators and various types of air separation systems. 
"We pride ourselves on the quality of the Genox range of shredders and granulators, said David Macdonald, general manager of Applied Machinery.
"They have proven to be reliable and cost effective, and go a long way to assisting our customers to achieve their environmental goals and KPI's. They have emerged as Australia's favourite solution for all kinds of waste and materials reduction jobs."
Genox invests heavily in research and development to ensure it remains at the forefront of waste reduction equipment.
"One of our customers purchased a Genox granulator to granulate fish waste from his restaurant so he could bag it and sell it as burly, said Mr Macdonald. "This keeps the waste out of landfill whilst simultaneously generating extra income.
"Other customers will use a shredder to cut down bulky items such as pipes and large off cuts to allow them to be more easily packed for transport off to recycling facilities. These are just a few of the many uses for Genox machines."
Applied also provide customers with the option of adding separators to their line in order to minimize waste and maximise return.
When shredding cable for example, this allows for separation of the valuable metal components, which can be on-sold to metal recyclers.
And the plastic can be transferred to a recycling facility for a new life as a recycled product.
"One of the major benefits of Genox equipment is that it can be customised to offer bespoke solutions tailored to suit the requirements of each and every customer," said Mr Macdonald.
"Another big advantage of purchasing from Applied is that we always keep an extensive range of Genox machines in stock which in most cases means same day purchase and delivery. This ensures our customers can take delivery quickly and put the machines to work immediately."
Applied also holds an extensive inventory of parts and accessories for quick routine maintenance, service and machine upgrades and add-ons so customers are never kept waiting.