Cut costs with Ramparts slurry pumps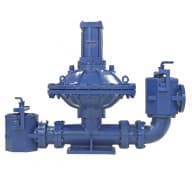 A rugged and extra heavy duty diaphragm pump is said to be the most cost effective pump to maintain and own.
Ramparts cast iron single acting diaphragm pumps are used on the heaviest duty sludge and slurry applications for municipal, industrial and mining applications.
Ramparts pumps have extra thick pump casings (up to 32mm on their largest pump) and have a variety of diaphragm and valve material to suit the pumping of corrosive and/or abrasive fluids. 
According to exclusive distributors, Hydro Innovations, there are not many pumps that can handle metal fines, sand, dilute hydrochloric acid, or dilute sulphuric acid. And even fewer that can handle all of them at the same time. 
Ramparts pumps can as they can be fully lined with abrasive and corrosion resistant compounds.
Available linings and elastomeric materials include Nordel (EPDM), Nitrile (Buna N), Neoprene, Viton and ETFE (Fluorinated Polymer), which provide operators with a materials choice to suit the pumping of whatever slurry they need to move.  
Hydro Innovations say these pumps are perfect for sheer sensitive liquids, clarifier sludge, filter press feed, and the pumping of non-newtonian liquids.
Ramparts diaphragm pumps are often used where helical rotor pumps, rotary lobe pumps, hose pumps or double diaphragm pumps have been traditionally used. 
When applications using these styles of pumps become too costly to maintain, Ramparts can provide a solution. 
They offer low internal velocities, large open clearances (for the pumping of large solids in suspension), flow-through design (keeping abrasives away from the diaphragm), and low stroke speed (usually 15-30 strokes per minute) to minimise wear rates.
Pumps are available in five sizes from 1½" (38mm) to 6" (150mm), with flow rates from 10L per minute (lpm) through to 1200 lpm, and heads to 65m. 
They are available with a variety of controls that allow suction and discharge pressures to be independently calibrated and stroke rates to be tuned to exact flow requirements.
Hydro Innovations
Ph: 02 9647 2700