CUSTOMISED SUSPENSION WITH BOKER'S EQUALLY HIGH STRENGTH COMPONENTS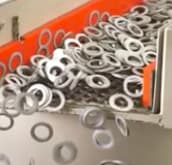 When you take your vehicle off road, a bit of rough and tumble is all part of the fun.
But what you don't want is a bone-jarring ride because inferior components have been used in the suspension system.
Boker's, Inc., which has been producing custom stamped components for more than 100 years for various applications, including off-road vehicles, has more than 32,000 reasons that original equipment manufacturers choose them.
That figure represents the number of non-standard washer, spacer, and shim sizes that the company can manufacture to exact specifications with no tooling charges.
Durability in extreme conditions with high-strength and lightweight components are what customers have come to expect from Boker's, not to mention valve shim stacks that offer unsurpassed surface finishing.
The proprietary process produces the highest quality shims with consistent thicknesses, inside diameters, and outside diameters. Custom shims and washers can be manufactured to meet your requirements.
To find out more about Boker's shim stacks for powersports and recreational vehicles, visit www.bokers.com