Safety in the Workplace, Product News
Published 15-06-2021
| Article appears in June 2021 Issue
Custom-made ladder rung covers provide much-needed safety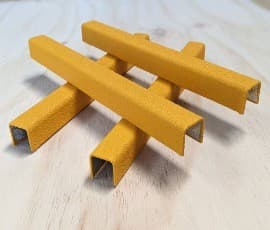 Along with the pain suffered and the lost time due to the seriousness of the injury, worn out, shiny, oily and greasy metal ladder rungs are among the main reasons why slipping and falling down ladders have become major concerns.
Paints and tapes have been tried in the past but offer little long-term protection, and can become a regular and costly maintenance job.
Floorsafe Australia is sensitive to cost considerations, and is always looking for better ways to easily fix and solve a problem. The company now custom-makes round and square Safety Tread metal ladder rung covers that will fit snuggly over the old and unsafe metal rung.
Manufactured from a 1.6mm metal, the metal is cut to length and shaped to fit over any size diameter rung. A special primer process is applied before applying three coats of a high-quality two-part polyurethane. A fine grade carborundum oxide grit is incorporated into the final coating, which increases the hardness and provides a high slip rating that meets the Australian slip standards. The product is of the highest quality and comes with a five-year wear warranty. 
The company also supplies cost-effective round Fibreglass ladder rung covers. Available in standard 20mm, 25mm and 30mm diameters, they are supplied cut to any length.
Installation is quite simple once the existing rung has been cleaned. Just apply an adhesive bead inside the new ladder rung cover and place over the existing rung. Floorsafe can also provide the 11FC fast-curing construction adhesive, which is available in cartridge and sausage form.
As a national supplier of aluminium and Fibreglass stair nosings, tactile indicators, skateboard deterrents, wheel stops and safety tapes, why buy any product when you can have a quality Floorsafe product? 
Floorsafe is a five-star company that offers a complete range of quality products that get delivered on time. Buy online at www.floorsafe.com.au or call 1300 717 769 or email sales@floorsafe.com.au