CUSTOM MADE AUSSIE ROBOT WINS AMAZON ROBOTICS CHALLENGE
31-07-2017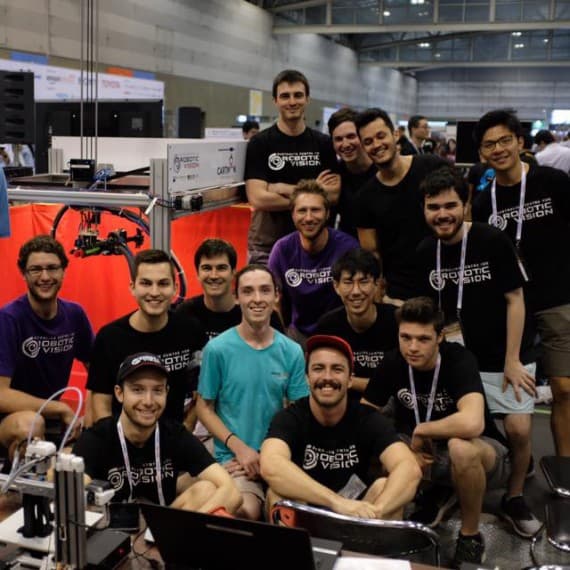 A team of researchers and students from The Australian Centre for Robotic Vision has taken out first prize in the 2017 Amazon Robotics Challenge at RoboCup in Nagoya Japan, scooping a prize of US $80,000.
True to the nature of its sponsor, the Amazon Robotics Challenge tasked each of the 16 teams involved with designing and building the hardware and software required to successfully pick and stow items in a warehouse.
Team ACRV developed a Cartesian robot to solve the problem, and was the only team to take that approach. The machine, dubbed Cartman, is capable of moving along three axes at right angles to each other, like a gantry crane. Cartman incorporates a rotating gripper that allows it to pick up items using either suction or a simple two-finger grip.
Fifteen members of the centre's 27-strong team of researchers, sourced from QUT, The University of Adelaide and the Australian National University, were in Japan for the event.
According to team leader Dr Juxi Leitner: "With six degrees of articulation and both a claw and suction gripper, Cartman gives us more flexibility to complete the tasks than most robots can offer. Cartman is robust and tackles the task in an innovative way and is also cost effective. We learnt from our experience last year when we used an off-the-shelf robot. I think we had the lowest cost robot at the event!"
The tasks required for the Amazon Challenge combined object recognition, pose recognition, grasp planning, compliant manipulation, motion planning, task planning, task execution, and error detection and recovery. The robots were scored by how many items they successfully picked and stowed in a fixed amount of time.
"We are world leaders in robotic vision and we're pushing the boundaries of computer vision and machine learning to complete these tasks in an unstructured environment," added Dr Leitner.