CUSTOM LOCK AND TAB WASHERS OFFER SECURE FASTENING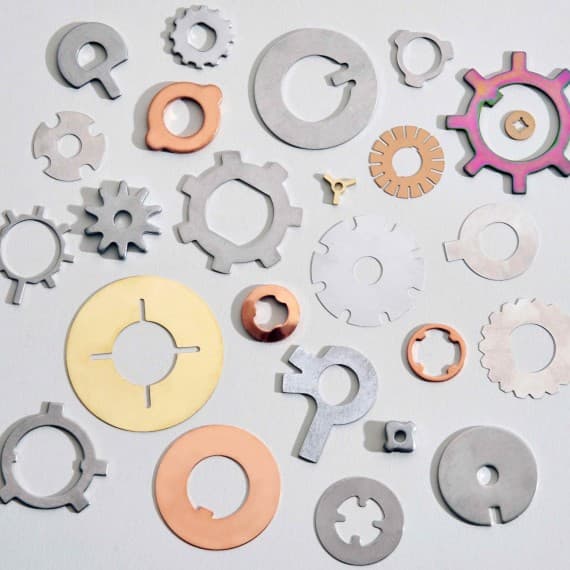 Boker's, a leading manufacturer of precision metal stampings, washers, spacers and shims, offers a complete range of non-standard and customised lock and tab washers designed for secure fastening in essential applications. These kinds of washers are vital in applications subjected to vibration, torque, heat or corrosion, providing an additional security measure to restrict threaded nuts, bolts or fastening systems from loosening, slipping or turning under load.
Lock washers are widely used as a reliable method to secure fastening. Common designs include internal tooth, external tooth or combination internal and external tooth designs. Lock washers exert a load, partially deform and lock a fastener in place. Tab washers are an additional form of lock washer that features one or more internal or external notches or tabs designed to hold the nut in place in relation to the connecting bolt or stud. Tabs may be bent or engage into keyways or slots in connected surfaces to provide a positive locking surface. In some applications, they are deployed along with a flat washer in order to distribute the load evenly without deforming the assembly that the fastener is secured to.
"As a leading manufacturer of precision metal stampings and washers, Boker's provides production capabilities for countless non-standard lock and tab washer configurations, as well as completely unique, custom designs for any application demands," Boker's Assistant Sales Manager Chuck Kersey says. "Coupled with immediate access to over 2000 materials and one of the industry's widest range of sizes and thicknesses, we can help OEMs produce virtually any high-performance tab washer design they can envision."
Tab washer sizes include a complete range of sizes up to 300mm in outside diameter, in addition to multiple inside diameter and thickness options, for compatibility with all types of nuts, bolts or fastening systems. With over 100 years of production, Boker's has extensive experience in washers for numerous critical and vibration-proof applications including multiple forms of land, marine and air transportation, military, industrial machinery, tools, pumps, motors and HVAC applications, all the way to consumer products such as appliances.
Boker's maintains over 32,000 stock tools for flat round washers, spacers and shims without tool charges. Customers can choose from a wide variety of sizes, thicknesses and materials, including non-metallic to suit their application. With outside diameters of 2 to 130mm and a wide variety of inside diameters, Boker's enables millions of flat and specialty washer possibilities.
Boker's lock and tab washers are custom produced in short, medium and long runs with fast delivery, minimal tool cost and 3D prototypes available. For an application-specific quote, customers can submit their specifications using Boker's fast quote form.
Boker's
+1 612 729 9365
bokers.com