Custom guarding solutions from 80/20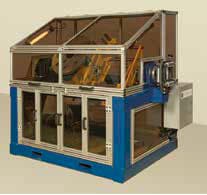 Sydney-based 80/20 Australia specialises in T-Slot aluminium extrusion.
The company offers an endless list of applications that can be innovatively tailored to suit any industry or application.
This includes "out of the box" solutions, limited only by your imagination and creativity.
Guarding and injury prevention is a priority in any industry – and 80/20 Australia recognises this.
The company advocates and encourages the implementation of extensive safety measures to prevent workplace injuries.
T-slotted aluminium extrusion can be used in conjunction with plastic and mesh paneling, linear motion bearings, pivots, casters and other customizable accessories to create a variety of safety solutions, compliant with OSHA rules and regulations.
80/20 Australia can turn your project into a ready-to-assemble kit that is easily installed with simple hand tools – no more welding.
T-slotted aluminium profiles can be adapted to any workplace aesthetic. They are low maintenance, rust-proof, and can be easily adjusted to suit industry's changing needs.
80/20 Australia
Ph: (02) 9838 9900