CUSTOM DENTISTRY CHECKS IN
01-08-2017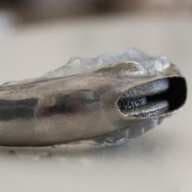 One year after the initial rush of popularity and media interest, Australia's own custom dentistry startup has come a long way. 
Though the media might have been quiet, the team at Oventus has been hard at work securing distribution rights and certifications for the gobal market. 
In their latest report, they reveal that they have partnered for global distribution with the world's largest dental prosthetic provider, Modern Dental Group.
The distribution plan is to be funded by the proceeds of their initial share placement, which raised $7 million AUD. 
"We are very pleased to have Modern Dental as our go to market partner and exclusive distributor in the US. Modern Dental has market leading positions in Europe and Australia, and a very strong presence in the US, servicing a quarter of all dentists, via its laboratory business Microdental," said Neil Anderson, CEO of Oventus.
"The manufacturing agreement with Modern Dental is also important, as it will enable us to scale up manufacturing for a global market, at a lower cost. Over the next few months we will be working closely with Modern Dental to put in place the systems, training and marketing to ready us to begin ramping up sales from the October quarter, with the US as the main area of focus initially." 
The company was initially working with the CSIRO from 2014 onwards to help create and test their product and, grow business.
Oventus, a Melbourne based company, was approached by the CSIRO in 2014 after dentist Chris Hart had an idea for a mouthguard that would help airflow bypass for any obstructions in a sleep apnoea sufferers airway.
Now, according to the report, it has made "significant progresss in the execution of its clinical trial program to advance the validation of its proprietary airway technology" in its appliance line, including:
A peer reviewed article on the O2Vent Mono has been accepted for publication by the Journal of Dental Sleep Medicine.
A Brisbane clinical trial assessing the value of mandibular advancement with the Oventus airway technology is fully recruited.
A Perth clinical trial examining the physiological effect of the Oventus airway is now underway.
As for the 3D-dentistry market as a whole, predictions show that the international market is ballooning, with revenue set to hit $3.7 billion by 2021.