CUSTOM-BUILT THERMOFORMERS SUIT INDIVIDUAL PRODUCTION NEEDS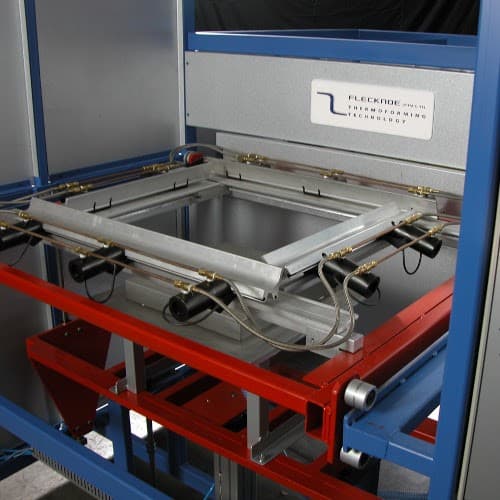 3D manufacturing solution specialist Flecknoe is working with manufacturers to drive efficiency and productivity in thermoforming and vacuum forming plastics production processes.
With more than 30 years experience designing, building and supporting manufacturing machines and processes for more than 50 Australian manufacturers, Flecknoe Director Phil Kitney is in demand for the advice and custom technology that gives these manufacturers an edge in the highly competitive 3D manufacturing marketplace.
Kitney says that he speaks both languages - thermoforming and vacuum forming - when it comes to making plastic do what you need it to do.
"The market is getting bigger and so are the products," says Kitney.
"The growth in thermoforming is keeping up with, and even overtaking, the growth of the plastics industry overall."
"In the past, people had to build their own thermoformers: it was a costly and time-consuming process, and the result wasn't an efficient or operator friendly process," says Kitney.
"But with our machines you don't have to use mechanical stops. You can easily set the platen via the control panel, for example."
"A thermoformer also offers total process control through the PLC and an aluminium clamp frame," says Kitney.
Thermoformed products have become larger over the years as the machines have come to offer better capabilities.
"Thermoforming is so versatile it's replacing many fibreglass parts like tractor cabins," says Kitney. "Small boats and canoes have been made in the past, but now we have clients thermoforming components for yachts," he adds.
Flecknoe's strength is its ability to custom-build a thermoformer to suit each client's individual production needs. A machine can cost around $45,000 for an entry-level device up to $300,000 for a large unit.
One machine manufactured by Flecknoe had to be transported in three sections.
This monster had a footprint of 11 x 5m and was 4m in height. The largest of the three sections, containing the oven, weighed 4500kg.
The oven section had 90 heating zones, top and bottom, and used ceramic colour changing heaters. All this required 1500m of high-temperature silicone cable.
The machine's form station was fitted with an electric platen and closed loop positioning. The sheet loader has the capability to handle a sheet measuring 3 x 2.5m and a load of up to 250kg.
"This technology gives our customers quicker setup time, constant part thickness, a reliably repeatable process, less part stress and overall product quality," says Kitney.
Warringah Plastics in Sydney, relies on its 3.3 x 2.7m maximum sheet size thermoforming machine to produce a range of products from skylight covers and light diffusers, equipment housings and interior coverings, builder handling trays, sealed enclosures to promotional material like display stands.
Some companies, like award-winning point-of-purchase design and manufacturing company PopArt in Melbourne, need smaller machines built to specifications that match the exact requirements of their manufacturing processes.
"Sometimes you can get better efficiencies that way," says Kitney.
It makes sense to buy locally, too. "Imported machines are rarely a cost effective solution," says Kitney.
The large machines are so big they won't fit into a container, which means the freight can cost more than the machine itself.
Servicing imported technology can be a real headache too… which is why buying from Flecknoe has a clear competitive advantage.
"All our machines have an Australian electrical system, which means easier servicing and spare parts," says Kitney.
In addition to design and manufacture of thermoforming machines, Flecknoe also supports the entire forming process, including CAD/CAM software, sales, installation and support for Thermwood 3- and 5-axis CNC routers, and supply of router tooling and bits.
Flecknoe
08 9354 9393
www.flecknoe.com.au