Published 18-05-2021
| Article appears in June 2021 Issue
CSIRO leads local researchers in global partnership for low-emissions power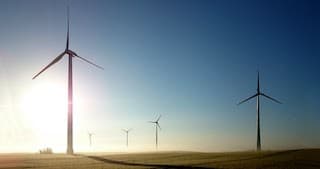 The CSIRO is drawing together leading energy research organisations as part of a global research push to decarbonise electricity systems. The partnership brings CSIRO and the Australian Energy Market Operator (AEMO) together with University of Melbourne, RMIT University and global consultancy Stratagen.
The partnership will comprise the Australian contingent of the Global Power System Transformation (G-PST) consortium, an international group of electricity system operators collaborating with leading researchers to speed up the shift to low-emission, cost-effective and reliable power systems.
The assembly of these researchers and electricity system operators marks an important step towards permanently reducing emissions trajectories, while at the same time improving the reliability, resilience and security of the grid.
Dr John Ward, Research Director of CSIRO's Energy Systems Research Program, said that the energy sector is "a central tenant of our net zero future". He said that CSIRO and AEMO would draw on their experience in research-industry collaborations to lead the Australian contribution to the global effort.
The energy sector "accounts for 54 per cent of Australia's emissions," said Dr Ward. He also said it "has the most mature range of low emission technology options for immediate and long-term opportunities".
"The cost of renewable energy is no longer our major challenge – integrating this energy efficiently into our electricity systems is what we need to solve." 
The challenges facing industry are broad. They include solving technical issues, enhancing workforce training and developing new real-time operational tools. Collaboration is the best way to deal with these issues.
CSIRO will act as the Australian research coordinator, as well as contribute directly to the research. The agency will ensure that Australian universities work hand-in-hand with industry, so that research is targeted to our country's practical needs. Australian industry also stands to gain from the research contributions of other countries shared under G-PST, while our researchers will benefit from global exposure. 
The CSIRO-led partnership will commence with a focus on developing Australian research plans in line with the G-PST research agenda. Target themes include quantifying technical requirements of future power systems for reliability and cost-efficiency, and investigating opportunities relating to Australia's rooftop solar uptake – which is near the global frontier.
Research plans will include a focus on inverter designs and power system stability tools, as well as the restoration of electricity systems with 100 per cent renewable energy. 
The collaboration is expected to expand to include more top Australian research organisations.
Australia has critical advantages in developing power systems thanks its world-leading uptake of renewables, said AEMO Chief Operations Officer Michael Gatt.
"Australia is at the forefront of the global energy switch to inverter-based renewable energy, allowing us to provide a unique perspective to develop the power systems of the future," Mr Gatt said.
"We're looking forward to collaborating with Australia's leading science agency, CSIRO, and researchers to address emerging challenges as we transition to a low emissions future energy system."