Published 11-08-2020
| Article appears in August 2020 Issue
CSIRO LAUNCHES FACE MASK TESTING FACILITY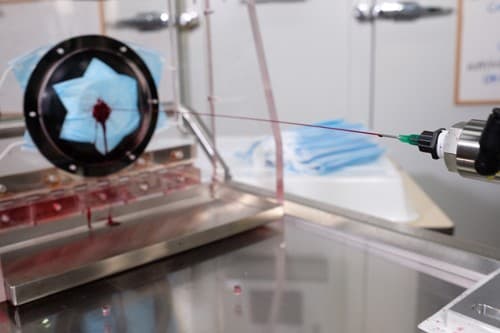 Australia's national science agency has launched the nation's first accredited surgical face mask testing facility in Melbourne.
The new facility, accredited by the National Association of Testing Authorities (NATA), is designed to help frontline health workers in the fight against COVID-19. It has the capacity to provide a rapid turnaround on surgical face mask testing, helping manufacturers fast-track the supply of masks.
It's also welcome relief for Australian companies that will not need to send masks and materials overseas for testing, saving time and money.
Minister for Industry, Science and Technology Karen Andrews says the facility will boost Australia's sovereign capability to produce essential medical supplies more efficiently and at a lower cost.
"This new facility gives companies access to accredited testing here at home so they can demonstrate their products meet rigorous Australian standards," she says.
"Test evidence from the facility will give confidence to manufacturers who supply vital equipment to frontline medical staff, and make an important contribution to global response effort."
CSIRO chief executive Dr Larry Marshall calls the facility another example of how science can support efforts to fight the COVID pandemic.
"Science is guiding us through COVID-19, and science will help us grow on the other side. There's not much Aussie innovation can't solve, whether it's finding the right vaccine or creating Australia's only NATA-accredited face mask testing facility."
Queensland manufacturer Evolve Group has recently pivoted to mask manufacturing to help meet Australia's COVID-19 PPE demands.
Evolve's managing director Ty Hermans says the new testing facility will support the company getting its masks to where they're needed faster.
"Using CSIRO's Australian testing facility means we don't have to ship our masks overseas," he says.
"It has been our mission to reshore manufacturing ever since we started in 2006, so testing our face masks at CSIRO's facility aligns with our goal to bolster Australia's sovereign manufacturing capability and not have to rely on overseas facilities."
To gain NATA's accreditation, the CSIRO facility underwent rigorous on-site assessments to ensure it could provide tests that show single-use surgical masks adequately filter biological particles, resist against blood penetration and enable the wearer to breathe comfortably.
Manufacturers that pass all three tests will meet both Australian and international standards and can be registered on the Australian Register for Therapeutic Goods.
The face mask testing facility builds on CSIRO's response to COVID-19, which has included testing and scaling up potential vaccines, using data to model and predict virus spread, and testing wastewater for traces of the virus.
Dr Marshall says the advent of the new facility is inspiring.
"This facility will give Aussie businesses another solution from science to stop the spread of COVID-19 and save lives."
Minister Andrews says the facility is great news for local manufacturers, and a strong example of Australian scientific ingenuity.
"It's further proof of how science is playing a critical role in Australia's pandemic response."